This post is the first of 12 installments in the Dinner on a Deadline series, a project designed to help you get thoughtful meals on the table quickly without resorting to processed convenience foods. Each week features homework to help you put the lessons into action, plus a sample recipe to show how we use the week's tips in real life.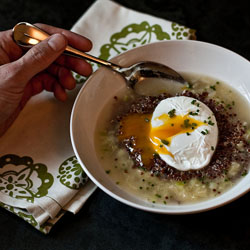 Chances are, if you're reading this blog, you like to cook. But there's some evil alchemy that happens on a weeknight, after a long day of work; even avid cooks lose their mojo when dinner starts to feel like drudgery. Although I'm not a planner by nature (really, I swear — stop snickering!), I've developed a routine that helps me fend off kitchen ennui. By mapping out our weeknight meals in advance, and making sure I have everything I need to keep things moving, I feel less harried and enjoy cooking more.
In the same way that it's always easier to cook when you've done your mise en place first, it's always easier to tackle menu planning when you've done a little legwork in advance. During the week, make a file of recipes that catch your eye as you're reading magazines, blogs, and cookbooks. Then, figure out a way to get yourself at least a half an hour when you won't be interrupted, so you can focus on your task. Clear off your desk or the table, then sit down with your calendar and your cookbooks, magazine clippings, and bookmarks. At our house, I work on menu planning on Fridays, the night before our favorite farmers market. To free up my time, Cameron fixes a garden salad and his choice of pasta — using pantry staples and homemade sauces from the freezer — while I plan dinners for the coming week.
To make menu planning less daunting, I have a few stock meals slotted into in the schedule. In addition to our regular Friday pasta night, on Tuesdays — when Cameron has band rehearsal — we usually reheat something from the freezer, like sloppy joes, chili, or a hearty soup. Plugging those standbys into my schedule, I have 2/7 of the week taken care of, right off the bat. Next, I block off any nights where we won't need to cook: Wednesdays are rough days for us, so we often treat ourselves by going out for dinner or grabbing takeout sushi on the way home. We also frequently have some sort of outing during the week — theater tickets, dinner parties, and the like — so I note those, too. Saturdays we typically have plenty of time to spend in the kitchen, so I schedule the most time-consuming meal there, along with any kitchen projects like making big batches of chicken stock, pasta sauces, and other freezer staples. By this point, the week's filling up nicely, and it's just a matter of shuffling a mix of old favorites, new ideas, and seasonal inspirations from my clipping file into the remaining days.
It also helps to know what foods are in season in your area, both to minimize shopping hassles, and to keep your budget under control. Many farmers markets feature  seasonality calendars on their sites (and yes, there's an app for that).  If you're worried that your plan includes items that won't be available, hedge your bets and know what your fallback recipe requires. If I'm planning, say, a fennel salad during a time when I don't know whether there will be fennel at the market, I'll make a note on the list of an alternative ingredient (like frisée) that I'm positive I can find.
If this seems like too much work, you can just head to the farmers market or grocery store and buy what looks good, but you'll want to make sure to browse with a plan in mind. A lot of my friends do this, shopping with a list of categories like "vegetables for 2 dinners, fruit for 4 lunches" rather than an entire menu plan, then deciding when they get home how it all goes together. (I will confess that whenever I shop this way, I inevitably end up missing some key ingredient; I think my friends are better organized than I am!) If you're not already adept at building meals from the pantry and cooking without recipes, though, you could find yourself with too much of one sort of thing, like tempting-but-perishable vegetables, and not enough of something critical, like meats or starches.
Speaking of surpluses: Meal planning can help prevent food waste and the motivation-sapping guilt that goes with it. I start my planning with a quick fridge inventory. With a list of what's in the crisper, I can plan the next week's meals to use up stragglers before they turn to compost.
As funny as it sounds, one of my menu planning secrets is to leave room for a little spontaneity. I always keep at least one night open, allowing us to accept impromptu dinner invitations, indulge a craving, or polish off leftovers.
Just as every cook has a different style, your planning will be different than mine. There's a universe of software, sites, even iPhone apps designed to help you plan meals; the good ones will create a shopping list automatically as you add recipes to the menu. I find that a little too complicated for my taste; my system involves nothing more than a word-processing document in GoogleDocs with a shopping list down one side and menus down the other. I keep it online so both of us can reference it from anywhere — home, work, the grocery store — in case we need to add to it or shop from it. It doesn't really matter what system you use, but it needs to work for you.
Have I scared you off yet? If the thought of planning for the whole week seems overwhelming, start with just a couple of planned meals and see how it goes. I think if you plan at least a few meals every week, you'll begin to see how much easier it is to get dinner on the table without a lot of drama. The more you plan, the less likely you are to push the panic button and find yourself dialing for pizza.
This week's homework
Novice planners: Plan out at least 2 meals for the coming week. Make a shopping list for your planned meals. Print out the recipes you'll be using (or flag them in books) so you can find them easily when you hit the kitchen. If the meal you're planning takes more than 30 minutes of prep, see if you can figure out a way to break it into manageable chunks by prepping parts of the recipe in advance the night before or the morning of.
Extra for experts: If you're already planning meals ahead of time, this one's for you: Make at least one full meal this week from what you already have on hand in your fridge, freezer, or pantry, without shopping for anything new. Bonus points for dessert.

This week's recipe
When my friend Jen and I went to dinner recently at Range, I ordered an appetizer that epitomized spring comfort foods for me. I'm a sucker for anything with an egg on top; the buttery leeks were indulgent, and the Parmesan broth was silky and rich. Looking at the various components, I had a hunch that I could re-create this combination at home.
As I started planning this meal, I was excited to realize I could make it entirely from things I already had on hand, although you certainly could buy them from any good grocery store. (Quinoa, by the way, can often be found in the bulk bins; feel free to substitute brown rice, lentils, or any other small, quick-cooking grain or legume.) With a little reheating and a quick bit of actual cooking, our dinner — a credible duplicate of a dish served at a Michelin-starred restaurant — was on the table in less than 20 minutes.
In the coming weeks, I'll talk more about stocking your larder so that you can improvise, too. In the meantime, you should be able to make all the components from start to finish in less than an hour, even quicker if you've got a helper. If you'd rather do some of the prep work in advance — a topic we'll discuss in more depth later in the series — I've noted how far out you can make that happen. Add a simple salad and a glass of wine, and you've got a meal that you'd be proud to serve to anyone.
Melted Leeks and Quinoa with a Poached Farm Egg and Parmesan Broth
- inspired by a first course at Range

For each serving — multiply as needed:
1/3 cup melted leeks
1/2 cup cooked quinoa
1/2 cup simmering chicken stock
a handful of Parmesan cheese, grated as finely as possible (about 1/2oz by weight)
1 extra-large egg
minced chives, for garnish
salt, as needed
Up to a week in advance:
- Make the melted leeks
Slice the leeks in half lengthwise, then slice the white and light-green parts into half-rings about 1/4- to 1/8-inch thick. Rinse leek slices well in a bowl of running water. Melt butter in heavy skillet over medium-low heat. Add leeks and a couple of tablespoons of water. Simmer slowly until leeks are tender and almost all water evaporates, adding more water if needed to further soften the leeks. Season well with salt. If using immediately, remove pan from the heat and set aside. Otherwise, cool to room temperature and store for up to a week in the fridge. (2 cups sliced raw leeks + 4T butter makes about 2/3 cup cooked, enough for 2 servings.)
Up to 24 hours in advance:
Thaw the stock in the fridge, if frozen.
Grate the Parmesan cheese with your finest grater, and refrigerate. (We use a Microplane zester so the cheese melts almost instantly when it hits the broth.)
When you're ready for dinner:
Cook the quinoa. (1.5x water to 1x quinoa, slow-simmered about 20 minutes or until all water evaporates. 1/2 cup quinoa + 3/4 cup water makes 1-1/4 cups cooked, a little more than enough for 2 servings.) 

Warm the leeks in a skillet with just a splash of added water.
Mince the chives.
Bring the chicken broth to a lively simmer and whisk in the Parmesan.
Just before you're ready to serve, soft-poach the eggs.
While the eggs are cooking, divide the melted leeks among individual bowls, spreading to cover about 2/3 of the bottom of the bowl. Scoop the quinoa over the leeks, and top each serving with a soft-poached egg. Sprinkle with chives, and pour the Parmesan broth around the edges of the bowl.
Plan-ahead ideas that made this meal easier:
- Having chives in the windowbox
- Stocking interesting stuff in our larder (quinoa, Parmesan, farm eggs, homemade stock)
- Breaking prep tasks across multiple days (pre-cooking leeks, pre-grating cheese, etc.)