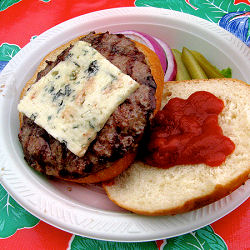 You remember last week's mad locavore dinner streak? This week: Not so much. OK, sure, we managed to hit our baseline — two dinners made from 90% local ingredients over the course of a week. But with the holidays and crazy work deadlines looming, there simply wasn't time to show off.
Still, we ate pretty well. Our first Dark Days Challenge meal of the week revolved around a fabulous batch of carnitas tacos — Range Brothers pork tucked inside Rancho Gordo tortillas — with Happy Quail poblano chile rajas, Primavera salsa, and a side of Rancho Gordo heirloom beans. Our usual Friday night pasta-fest — Eduardo's linguine and our homemade sauce — featured a shaved fennel and apple salad made from homegrown fennel, Apple Farm apples, Point Reyes Blue cheese, and Bariani olive oil. As quick weeknight meals go, they weren't too shabby… even if we only managed two dinners from within our foodshed this week.
But, as I keep having to reminding myself, there are 14 other meals every week.
Pretty much every breakfast we eat meets our challenge criteria. Our eggs and butter are Clover Organic, the bread comes from Acme, the preserves are usually gifts from friends (who use local fruit) or bought from June Taylor. On the weekends, our Saturday market ritual involves a stop at Primavera, where the menu proudly displays the names of the farmers who grow their delectable ingredients. And on Sundays, we fancy up our weekday fare with Fatted Calf or Range Bros. bacon, or homemade breakfast sausage.
Lunch, though, is a mixed bag. When leftovers aren't an option, things can be pretty grim. The area around my office is mercifully light on mega-chain fast food and rich in gourmet-ish choices, but none of them are particularly locavore-friendly. There's a branch of Out the Door, the quick-service sibling of San Francisco's famed Slanted Door restaurant, but the best they can do is "organic whenever possible".
Twice a week, my options improve significantly.
On Tuesdays, I hop the streetcar down to the Ferry Building for the lunchtime farmers market. During the market, Prather Ranch sells hamburgers on Acme buns, and Donna's sells tamales and "enchamales", locally made with some local ingredients.
There's an array of not-quite-there options inside the Ferry Building itself, mostly local but non-organic, or vice-versa. If you're feeling particularly wealthy, I suppose you could lunch on Tomales Bay oysters and Bay Area microbrews at the Hog Island bar overlooking the bay, but that's a wee bit rich for my everyday budget.
On Wednesday, I head to the decidedly un-chic Heart of the City farmers market at Civic Center. I pick up a few midweek provisions, but my real goal is a quarter of a spit-roasted Fulton Valley chicken and a side of basted potatoes from Roli Roti. All things considered, it's probably my favorite locavore lunch option, and relatively cheap by comparison.
All in all, my best bet for Dark Days lunches is planned leftovers. But, given how unsuccessful we've been this last week at actually putting food on our table, it's a good thing that other options exist.