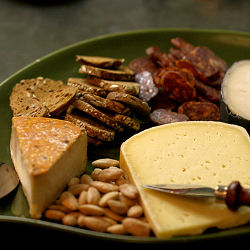 Thank goodness, we're done with turkey. Blissfully, all of the bits and pieces made their way either into our bellies or the stock pot by early last week.
On Sunday night, we were so sick of overstuffed plates that we decided to graze. The platter pictured was our family supper: Fra'Mani salumi, Judy's country crackers, Alfieri's salted blanched almonds, and three cheeses: Gravenstein Gold, Matos St. George, and Midnight Moon. Every last bit was local, and all of it was delicious.
(For the play-by-play on turkey sandwiches and last week's other local meals, check out the Flickr set.)
Of course, there's no getting through Thanksgiving leftovers in our house without the obligatory platter of Enchiladas Suizas. This tangy south-of-the-border specialty is my favorite way to use up excess poultry, no matter the season. But my attempts to keep the dish 90% local highlighted one of the realities of the Dark Days challenge: It's getting harder to eat as we like as the year wanes.
Unable to find tomatillos at the Ferry Plaza market, I hit up Rainbow Grocery… but theirs hailed from Mexico. I did turn up a few small specimens at the Berkeley farmers market, but they weren't exactly plentiful. Next year, I'll follow the lead of the Monkey Wrangler and put up tomatillos when they're overflowing the market stalls.
But no matter the shopping conundrum, there are few things that make me happier than sitting with my clan around a table full of gorgeous Mexican comfort food. We rounded out the meal with a pan of sopa seca (Mexican rice) and a pot of heirloom beans. We even managed a small bowl of guacamole courtesy of our friend Tea, who gifted us with a trio of the season's last avocados on her way out of town.
It's becoming clear that locavore meals are going to require additional creativity in the coming weeks. (Is it cheating to call dried chiles a spice when you're using them by the bagful to make enchilada sauce? Hmm…) Thankfully, we'll be able to get our Lundberg rice and our Rancho Gordo tortillas and beans year-round. In the meantime, Rick Bayless assures us that his recipe's just as good with canned red tomatoes as it is with fresh tomatillos; it might just be the sort of project worth a dip into our pantry stash.
Enchiladas Suizas
- adapted from Mexico One Plate at a Time
3 pounds tomatillos, husks removed, washed to remove sticky residue
- or substitute two 28-oz cans whole tomatoes, drained
2 serrano or jalapeño chiles, stemmed
2T pork fat, chicken fat, or oil
1 medium onion, chopped
2 cups chicken or turkey broth
1/2 cup sour cream, thinned with 2T cream or milk
3 cups shredded meat, such as leftover roast chicken or turkey
2/3 cup shredded melting cheese, such as Jack
12 corn tortillas
For garnish: sliced purple onions, cilantro springs, radish slices
Roast the tomatillos and chiles under the broiler until charred and soft on both sides. Transfer to a blender along with the pan juices and puree until no large pieces remain. (If using canned tomatoes, roast the chiles in a skillet, blend them with the drained tomatoes, and proceed.)
Heat the oven to 350°F.
In a Dutch oven, heat the pork fat over medium heat. Add the onion and saute until golden. Raise the heat a notch and add the puree; cook until thickened to the consistency of porridge, 10 to 15 minutes. Stir in the broth and season to taste with salt. Cover partially and simmer 15 minutes until the sauce is still slightly soupy. Keep warm until ready to use, thinning with more broth or water as needed to keep relatively loose.
Just before using, stir the thinned sour cream into the sauce. In a large bowl, combine the meat with about 1/2 cup of the sauce, or enough to coat it without making too wet. Season to taste.
Lay the tortillas out on two baking sheets, and brush lightly both sides with corn or vegetable oil (or more pork fat). Heat in the oven for about 3 minutes, until tortillas soften enough to roll without breaking. Remove from oven and keep warm, wrapped in a towel.
Spread 1 cup of the sauce on the bottom of a 13 x 9 pan. Roll up a portion of the chicken mixture in each tortilla, then arrange the filled enchiladas in the pan in a single layer. Cover with the remaining sauce, then top with the cheese. Bake until the dish is heated through, about 15 minutes. (Depending on your oven, you may need to cover the top to prevent overbrowning, or turn on the broiler at the end to give the cheese a golden crisp.)
Serve, 2 or 3 to a plate, garnished with onion slices, radishes, and/or cilantro sprigs.
Note: Leftovers are delicious, but because the tortillas lose their shape and consistency, it's more like a casserole on the second day.