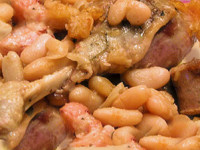 We've had a crazy mixed-up holiday season this year, getting ready for the remodel and spending copious amounts of time away from San Francisco. There was no tree this year, no holiday baking, not even a wreath on the door. I consider myself damned lucky that we even got cards in the mail, and only a little embarrassed that they were store-bought (and bore postmarks precariously close to the 25th).
One of the holiday traditions I've been craving the most is a relatively new one for us: On New Year's Day 2003 — during the Seattle Experiment — we made our first cassoulet, and served it to five good friends. Our sit-down meal started with three dozen oysters and a big green salad, and ended with a long walk!
After skipping the festivities in 2004 — we were moving into a new house — we decided to revive the cassoulet tradition two years ago. On January 1, 2005, we invited our entire crew over for an all-afternoon open house, which was simultaneously easier (for not having to find a dozen chairs or matching plates) but also more difficult (keeping cassoulet hot but accessible over the course of the afternoon).
I suspect that party made a deep impression, because one of my Seattle friends asked me for my cassoulet recipe last summer, 18 months after the fact. And then another asked me, just last week, whether I'd be making cassoulet for New Year's Day this year. Alas, I told him, we'll be packing up the kitchen for good on January 1 — not a good time to be nursing a giant pot of pork-and-beans a la francais. And anyway, I'd be at my parents' house through the 29th, leaving me no time to prep duck confit or perform the multi-day mise-en-place that my usual recipe requires.
You see this coming, non?
I'm not sure what got me so obsessed, but I think seeing both Toulouse sausage and duck confit on the Fatted Calf newsletter last week might have been the trigger. Yeah, they're both on the list every week, I suppose, but my subconscious is working overtime. I became fixated on making cassoulet, somehow: Perhaps if I bought some of the hard-to-make ingredients, rather than making them myself, it wouldn't be such a crazy idea?
In the back of my mind, I remembered my sister mentioning a "cheater's cassoulet" she and her husband had made a while back. I checked the usual places for a recipe that seemed to fit that bill, to no avail. I dropped her a line, and asked if she remembered the shortcut I was taking about.
"I think it's Bittman," she answered. "We'll email it to you tonight."
Sure enough, when it arrived, the recipe was classic Bittman, embodying everything I loathe about his Minimalist shtick, complete with unnecessary substitutions (Italian sausage?? pork tenderloin??) and an outrageously short cooking time. And let's be honest — there's no way any bean stew tastes good in less than an hour. That recipe's no cassoulet; it doesn't even play one on TV.
Stuck between my old standby — which takes three days, from start to finish, not including the month-long process of making and curing the duck confit — and this 45-minute abomination, I decided there must be some middle ground.
Starting from the 72-hour version, I reduced quantities to keep leftovers in check, then pared down the steps to the essentials, and eliminated some of the crazier ingredients. I ended up with a dish that can be prepped over the course of a lazy morning, leaving enough time for a long, slow braise that coasts into an early supper as the winter sun wanes.
Of course, if you've the luxury of time, feel free to break things down into more-manageable blocks, as noted below.
One-Day Cassoulet
1 pound dried white beans that hold their shape when cooked
1 large yellow onion, peeled and cut into 1-inch chunks
1/4 cup duck fat or chicken fat or lard — divided use
1 meaty ham bone or ham hock (about 3/4 pound)
3 small sprigs fresh thyme
salt and freshly ground black pepper, to taste
1 pound fresh garlic pork sausage, cut into 2-inch chunks
2 to 4 whole confit duck legs, drumsticks and thighs separated
additional unsalted duck, chicken, or ham broth, or water
1/2 to 1 cup toasted breadcrumbs, or panko
Rinse the beans, and soak in your usual manner; drain and set aside.
In a large saucepan or bean pot, saute the onion in 2T duck fat over medium heat until soft. Add the beans, thyme, and the ham hock or ham bone, and cover with water. Bring to a boil over high heat.
Reduce to a low simmer, and cook until the beans are tender but not fully cooked — about 45 minutes for heirloom beans, longer for store-bought. Remove ham bone or hock from the broth, and set aside to cool. Season beans and their liquid to taste with salt and pepper, and set aside. When cool enough to handle, cut meat from the hock or bone into large chunks. Discard the bones (and skin, if you've used a smoked hock) and return the meat to the bean pot.
Heat the remaining 2T duck fat in a large skillet over medium heat. Add the duck confit pieces, and cook until browned. Remove from pan and set aside on a plate. Add the sausage pieces to the pan, and brown on all sides, approximately 10 minutes. Deglaze the pan with 1 cup of the bean juices, scraping to dislodge the browned bits; return the enriched juices to the bean pot.
(This makes a nice stopping point, if you're preparing the cassoulet over two or more days. Be sure to store the beans in their liquid, and remember to bring all ingredients back to temperature before proceeding.)
Preheat the oven to 350F.
With a slotted spoon, place half of the bean-ham mixture into a wide casserole, preferably earthenware or enameled cast-iron. Cover the beans with sausages, then a layer of the duck confit. Cover with the remaining beans, and add just enough of the bean juices to reach the top layer of beans, leaving their top edges exposed. Reserve the extra bean liquid. (Depending on your pan, you may need more liquid, either at this stage or during the moistening process. You can use unsalted chicken broth or — if you're confident in the flavors of your ingredients — water, but make sure the liquid is warm before adding to the pot, or you'll slow the cooking process.)
Bake the cassoulet, uncovered, until the mixture comes to a simmer and a crust begins to form, usually about an hour. Break the crust with the back of a spoon, and push the crust under the liquid. Reduce heat to 250F, and cook for as long as you can bear the aroma (2 to 5 hours more), checking every 30 minutes to make sure the cassoulet is still bubbling, and adding more warm liquid as needed to keep the mixture moist but not sodden.
(If you have time, you can cool the cassoulet completely at this point and then refrigerate it, covered with aluminum foil, for a day or two. As with most stews, this resting period will improve the cassoulet, not harm it. If you take this route, warm the cassoulet to room temperature the day you'll serve it — at least 45 minutes — and heat for an hour in a 350F oven before proceeding to the next step. Again, remoisten as needed.)
Top with the bread crumbs, and cook for 15 to 20 minutes longer. Remove the cassoulet from the oven, and allow to rest 10 minutes before serving.