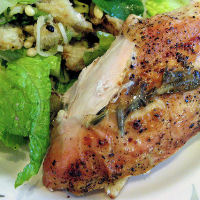 Here I was, feeling all smug about having cooked and eaten six days worth of local, affordable, and (dare I brag?) delicious food for the Penny-Wise Eat Local Challenge. And then I read CookieCrumb's post about eating wheatberries to keep your carbs up… and instantly felt terribly guilty about all the bread we've eaten this week. But damn, this challenge was hard enough, even with all of the exemptions we claimed.
Every time I reached for a bottle of soy sauce or a pinch of chile, I repeated to myself a favorite quote from the Chronicle article profiling Cookie and her husband Cranky's early take on the challenge: "One of the things you learn when you do this is that [eating] local is not a cult," says [Cranky]. "You learn about things and you make exceptions."
Keeping what I now call "The Cranky Principle" in mind, I'm proud of our results. We certainly did well in the budget department: Our 6-day food expenditures came to $123.73 — equivalent to $144.35 for a 7-day week, or just 35 cents over budget. (If you're curious about all the gory details, feel free to peek at the spreadsheet, which also details the distance the food travelled to our plates. Oh, and there are some pictures — obviously not everything we ate is here, but it's a good assortment.)
A few observations on our week:
We ate about the same quantity of food as usual, and about the same protein-to-carbs ratio. We ate more ground meat than we do in a typical week, although in truth I think that if I had had more time to plan my menu, and more time to shop around, could have done better in this regard.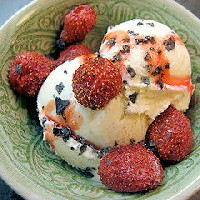 I bought more food at the grocery store than I usually do, and less from the farmers market. Sad to say, the 'Big Organic' producers like Earthbound Farms make it hard to walk by that $3 bag of (four!) romaine hearts when the budget's tight. When it came down to it, I suspected the premium for farm-fresh produce would eat into the budget. I'll be glad to leave the shrinkwrapped lettuce behind next week, though, and go back to my delicate Little Gems.
We didn't do as good a job of eating seasonally as we could have. I'll chalk some of this up to my not planning ahead sufficiently — we jumped into the challenge with less than 24 hours' notice — but a lot of it did come down to the fact that the things we like to eat at this time of year aren't terribly cheap, yet. So I fell back on a lot of the foods I used to make when money was tighter: Roast chicken, meatloaf, sandwiches, stir-fries… and lots of leftovers for lunch.
Speaking of lunch: Forgetting your brown bag can be disastrous. I left my chicken-salad sandwich in the fridge at home on Tuesday! Luckily, a short streetcar ride put me at the Ferry Building, where the Tuesday lunchtime market meant I had my choice of Donna's tamales (too long a line), Prather or Taylor's burgers (too pricey), Acme 'sandwiches' (too skimpy!), and Mijita's chilaquiles. Guess which one this Mexican-breakfast addict chose? At $7 a plate, they're not a bargain, but compared to Mijita's other choices, they're a steal. My forgetfulness did bust the budget, but only by the teensiest bit.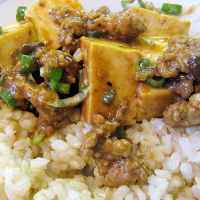 Our revised alcohol budget of $9.75 per week for two people still seems incredibly low. We went to 150% of budget and spent $14, which bought us a six-pack of Speakeasy Untouchable Pale Ale and a 375 ml half-bottle of Bonny Doon Big House Red. And yes, we found ourselves standing in front of the fridge pondering the empty booze shelf by the middle of the week. Next time, maybe we'll buy a big bottle of Anchor's Old Potrero Rye and drink a fifth of it — very slowly — mixed with good ol' Hetch-Hetchy branch water. (Doesn't sound very food-friendly, does it?)
I definitely enjoyed taking part in the challenge. Even though most of our food already came from local or semi-local sources, participating here opened my eyes to both the variety of items in our foodshed, and the distances that even our 'local' farmers market food travels to get to our kitchen. I have to admit that I'm looking forward to being able to just shop and cook from the hip, without taking notes or making calculations. And I know that despite all of the ways we stretched the rules, we learned a lot.
Most of the participants are just past the halfway mark of their challenge — we started early and shortened our week to 6 days due to a previous dinner commitment tonight and a weekend full of travel. For an amazing peek into the nuts and bolts of eating locally, check out all 20 of the participating bloggers over on the PELC roundup page. I'm utterly in awe of folks who are giving this a go in places like Maine and Syracuse, where spring has just barely sprung.