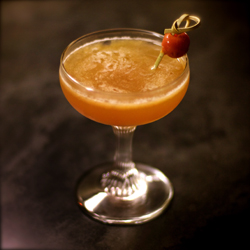 The great irony of these troubled economic times is that cocktail budgets are shrinking just at the time when many of us really could use a strong drink. And even if you've survived the entire economic downturn syndrome — the downsizing, the furloughs, the real-estate bubble, and the credit crunch — unscathed, it feels a little too much like tempting fate to be drinking high on the hog while waiting for the other shoe to drop.
And thus we find ourselves on this particular Mixology Monday with the theme Hard Drinks for Hard Times, hosted by whiskey guru Matthew Rowley. Our assignment: "Write about an alcoholic drink you've made that resonates with the current economic turndown."
But even widespread austerity measures don't have to mean the end of the civilized ritual that a properly made cocktail affords. Off the top of my head, I can think of five painless ways to keep the cocktail hour rolling when we need it the most:
Secret #1: Switch your allegiance.
Perhaps the simplest way to economize on cocktail expenses — other than to drink less — is to drink cheaper booze. Duh. But I'm not advocating that you ignore your tastebuds and buy crap, or even settle for something you don't enjoy. (We are still drinking for the pleasure of the well-crafted cocktail, correct?)
So, for example, if you're fond of rye (and really, who isn't?) consider a bottle of Old Overholt for everyday mixing; save that Sazerac or Rittenhouse for sipping, or at least for the drinks where the spirit is the star of the show. The shelves are filled with quality booze that's nearly as good as the boutique brands, at a fraction of the cost. David Wondrich wrote up five of his favorites in a recent Esquire piece; I'm hoping we'll hear a lot more about alternative brands from other MxMo posters.
Secret #2: Share the love.
If you need just an ounce or two of some obscure liqueur, don't be afraid to ask your friends if they've got a bottle you can borrow. This works especially well if you have somebody like Erik living a few blocks away, like we do. But even if you have to make a special trip across town, you'll have an excuse to buy your pal a drink.
The ground rules are the same ones your mama taught you back when your friends were loaning you Hot Wheels and Shaun Cassidy albums: Return the item in the same condition you found it, express gratitude in an appropriate fashion, and reiterate how happy you'll be to return the favor down the road.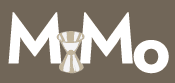 Secret #3: Think small.
If you don't have a ready network of cocktail geeks in your back yard, there's still hope. Even the most math-challenged among us realizes that mini-bottles aren't a great deal on an ounce-by-ounce basis. But if you only need a splash of something to test out a recipe – especially if it's a type of liquor you aren't sure you'll love – tiny bottles can be a smarter bet.
A case in point: A few months back, I wanted to test a recipe that called for a small amount of Southern Comfort. But I'm not a great fan of flavored spirits, so this was a case where the $2.50 mini was a much wiser investment than the 750ml bottle at $15. (Special note to drink bloggers: Minis are often indistinguishable from their full-size counterparts in photographs, especially if you use a macro lens.)
Secret #4: Shop around.
If you're lucky enough to live in a place that's unencumbered by a state liquor monopoly, don't be afraid to look for good-quality booze in unlikely places. Swanky spirits emporia may have all the beautiful bottles you need in one place, but they aren't always a fantastic bargain. And — if you're anything like me — it's often impossible to get out the door without buying three (or five, or a dozen) things you couldn't live without.
You can often find great deals at places that don't necessarily specialize in spirits, like supermarkets (we keep our Safeway Club Card just for stocking up on staple booze), drugstores (a co-worker swears Rite-Aid has door-buster pricing on Sailor Jerry rum), and warehouse stores like Costco. Just make sure to walk straight past that twelve-pack of Swiffer refills, OK?
But when you're clipping coupons and being an otherwise savvy consumer, don't forget that the owner of your local quality liquor store — the one who makes great wine recommendations and offers to set aside bottles of special whiskey for you when it comes in — is also feeling the pinch. Certainly, buy your Beefeater in bulk, but when you're getting excited about saving two bucks on a $25 bottle at the megamart, remember that if you don't buy from the folks who really know their stuff, you'll miss their expertise when the inevitable happens.
Secret #5: Drink seasonally.
If you're a fan of drinks that have a substantial fruit or juice component, it pays to keep an eye on the calendar. Drink sours in the wintertime, Tequila por mi Amante in the spring, Bellinis in summertime, cobblers in the fall. Just as when you're planning meals, follow the bumper crop for cocktail ingredients and you'll find the best prices as the farmers market. And don't be afraid to ask around; you may even get lucky enough to find a neighbor or co-worker with an abundance of backyard fruit to share.
If you know you won't be able to live without your favorite fruity beverages in the off-season, consider simple preservation: Most fruits (and pretty much all juices) freeze well, and home-made cocktail cherries are among the simplest and most rewarding of spring pantry projects.
—-
In the spirit of the frugal tipple, we shook up a batch of Ward Eight cocktails — essentially a more-interesting twist on the venerable whiskey sour — using one of our favorite value-priced spirits, plus lemons from our own tree, and oranges given to us by a friend with an abundance of homegrown fruit. The grenadine is a homebrew version we keep on hand, made from store-bought pomegranate juice. The cherry garnish happens to be a gift from another thoughtful friend, but we could just as easily have used our own home-preserved version.
We're sipping them out of gorgeous glassware, but — a-ha, an unbilled Secret #6! — we buy nearly all of our cocktail glasses secondhand. Thrift stores sell beautiful vintage glasses as cheaply as $0.50, and rarely higher than $2 a stem. An added bonus: Antique cocktail glasses are much smaller than their modern counterparts, so you can often split a single drink between two.





Ward Eight
2 oz rye whiskey (such as Old Overholt)
3/4 oz lemon juice
3/4 oz orange juice
1 teaspoon grenadine
Shake with ice and strain into a chilled cocktail glass.