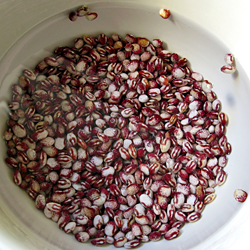 The irony of yesterday's 80-degree excursion to the Ferry Plaza was that none of us wanted summery stuff. We waltzed right past stalls filled with tomatoes, artichokes, and strawberries(!) and gravitated toward the pork, beans, and greens we all craved despite the heat.
With the unseasonably warm weather and our un-air-conditoned house, we knew it would stay too hot to braise, so we headed over to the Marin Sun Farms stand and checked out their grillable options. Laura picked out a lovely slab of pork ribs, and I walked across the aisle for a bag full of Brussels sprouts from the Iacopi's stand.
Since Laura's only able to find pintos and cranberry beans at her local markets, she planned to load up her bag with lots of fun varieties from the Rancho Gordo stand. Little did we know that Steve Sando himself would be tending the stall on Saturday, training two new employees and charming the shoppers who were surprised to see the bean guru himself behind the baskets and bags. In addition to the four varieties Laura chose — old favorites Yellow Eye and Calypso, plus two others that escape me Pebble and Anasazi — we also bought a pound of Red Nightfall, for our Dark Days dinner that night. I had no idea how we'd serve them, but I knew we could find inspiration flipping through our just-bought copy of Steve's new book, Heirloom Beans.
Cameron gave the ribs a simple rub (salt, pepper, dried sage, and pasilla), and we planned to serve them with a mustard-and-vinegar sauce, so we looked for a simple recipe that would showcase the beans' natural flavors. It didn't take us long to find a dish that we all agreed sounded delicious: What's not to love about porky goodness topped with a drizzle of bright olive oil and a snowy dusting of cheese? We found a hunk of Fatted Calf pancetta in the freezer and snipped some fresh sage from the garden, swapped a red onion for yellow, and left out the original recipe's carrot. The end result was delicious, if I do say so myself, and a perfect counterpoint to the smokiness of the ribs and the tart-bitterness of the shredded sprouts.
ps: For more great photos of our meal prep, don't miss Laura's set and post.
Beans with Pancetta and Sage
- adapted from Heirloom Beans
1/2 pound heirloom beans, soaked
- the original recipe calls for Jacob's Cattle, but we used Red Nightfall
1/2 medium red onion, chopped
2 celery stalks, chopped
3 garlic cloves, minced
1/4 pound pancetta or slab bacon, diced
2T chopped fresh sage
dry Jack or other hard cheese, grated, for garnishing
Place the beans and their soaking liquid in a tall pot, adding enough cold water to cover by at least an inch. Bring to a boil for 5 minutes, then reduce heat to low. Simmer, partially covered, until beans begin to soften (about 30 minutes).
Meanwhile, heat a heavy skillet over medium heat. Add the olive oil and warm through, then add the onion, celery, garlic, pancetta, half of the sage, and a little salt and pepper. (Keep in mind your pork may be heavily salted.) Reduce heat to medium-low and sauté very slowly; do not allow the ingredients to brown. When very soft and aromatic, about 20 minutes, remove from heat and set aside.
Add the sauteed mixture to the beans and bring to a simmer, adding more water as needed. Taste the simmering liquid, and adjust for salt as needed. Simmer, partially covered, until the beans are tender, about another hour, keeping an eye on the water level. When beans are cooked through and no longer chalky, add the remaining sage and adjust seasonings; simmer for 5 minutes.
Serve the beans with a little of their pot liquor in shallow bowls, drizzled with olive oil and sprinkled with the grated cheese.
—-
Disclaimer: Cameron and I are big fans of pretty much everything Steve Sando does; the three of us are friends from the olden days on various food boards, and we've been known to babysit his market stall on occasion. There's no way to say that I'm not biased, but I still think that the book is fabulous: The recipes go well beyond the usual things you think of making with dried beans; the photography is stunning; and the graphic design is trademark Rancho Gordo, with bold typography, clean lines, lots of white space, and judicious use of bright accent colors.
Although I've only cooked once from it, at the price ($15 on Amazon) it seems like a bargain. It's got a fun foreword by Thomas Keller (yes, Food Jesus is one of Steve's fans, too), great front matter that covers everything from Rancho Gordo history to equipment notes, and recipes from some of our favorite restaurants — like Range's Cellini Bean Soup with Chard and Poached Eggs. I'm looking forward to exploring it in more depth, and I'd say that even if Steve wasn't a pal.