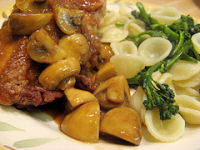 As I told a friend today in email, "finished" is perhaps too strong a word for the current state of the kitchen remodel, but that didn't stop us from moving back upstairs over the weekend. And since everyone — and I do mean everyone, from my boss to the craftsman who created our gorgeous countertops — has asked: The first thing we cooked in our new kitchen was …pan-seared chicken.
Boring, you say? Delicious, says me. And, more to the point, a dish that would have been nearly impossible to create in our temporary kitchen. But with a vent hood, a powerful stove, and an oven that comfortably holds an entire skillet, it was as easy as one, two, three.
One: Cam cut a Prather Ranch heritage-breed chicken into parts, seared its duck-like skin on the stovetop, and then slid it into the oven to finish cooking through.
Two: I sauteed some broccoli di ciccio in a pan with peppery olive oil, added a bit of garlic to sweat, and combined it with some orecchiete and parmesan.
Three: Cam removed the now-roasted chicken from the pan, sauteed some quartered mushrooms in the rendered chicken fat, added a bit of wine, and called it sauce.
Damn. Having a good kitchen makes these kind of simple meals a real pleasure. I'd almost forgotten how much fun it is to make something by heart. Sure, it's been a challenge — and I mean that in the best way — to get delicious stuff on the table with only a toaster oven and a porta-burner, but it's so nice to finally be living and cooking in this space, this project that's been taking up the vast majority of our energies for ages.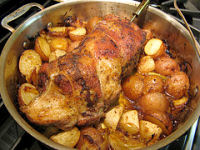 Over the last couple of days, we've celebrated many other "firsts." Our inaugural breakfast included Fatted Calf bacon, perfectly fried eggs, and toasted Acme pain de mie. We made our first old favorite, the Zuni Cafe mock porchetta with roasted roots, in our new oven. And for our first new-to-us dish, I turned to a recipe that had been calling my name for weeks: Spaghetti al' Limone from Avenue Food, which I'd printed out and squirreled away with the express idea of cooking it as soon as I could boil a pot full of water without waiting two hours.
Last night, we made our first braise, and our first meal from our favorite cookbook — a Moroccan-esque chicken with preserved lemons and olives. Stumped for a side dish, I concocted the kitchen's first new recipe, a jumble of veggies from this weekend's farmers market trek and a few pantry staples. Like everything else we've cooked this week, it was nothing extraordinary. But the joy of making it, and the pleasure of its first-ness, were enough to keep me smiling even through the dishwashing.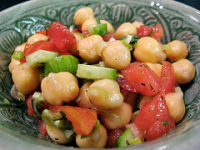 Amid all this giddy cooking, it's easy to forget that we still have plenty of items on the punch list — including dealing with the joy(!) of knob-free doors and drawers until sometime around Easter week, when our re-made cabinet doors are due to arrive. In the meantime, we've got a lot of great dinners planned, a lot more hoarded recipes to try. And we're amusing ourselves by slowly coming to grips with the fact that it's all finally REAL. We can't wait to share some photos (and some more meals) with you soon.
The "First" Salad
1 cup (about 1/2 can) drained garbanzo beans
1 small cucumber, diced (peeled if thick-skinned)
1 small heirloom tomato, seeded and diced (about 1/2 cup)
1/2 tsp. whole Mexican oregano, crumbled
1-1/2 tsp. chopped flat-leaf parsley
2 stalks green garlic, white and light-green parts, sliced thin
1T (or to taste) rich olive oil
juice of 1/2 Meyer lemon (about 1T)
salt and pepper, to taste