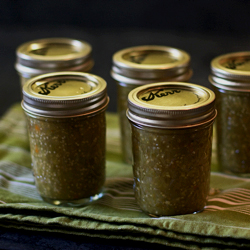 Last year, I found myself green with envy — if you'll pardon the pun — over Dylan's stores of tomatillo salsa. By the time I cleared some space on the canning calendar, though, all the Ferry Plaza farmers who normally sell tomatillos (which isn't a long list to begin with) had finished their harvest for the season.
So when I saw the saw the first basket of tomatillos early this summer, I pounced. After a long winter without a steady supply of chili verde, green posole, or even a simple tomatillo salsa, I was long overdue. But I put off making salsa again, for reasons I can't quite explain.
Luckily, the tomato and tomatillo season this year seems to be going on forever, and despite my folly, was able to score a big 5-pound bag at Catalán Family Farm's market stand on Saturday, and put up a full batch of liquid green love on Sunday afternoon.
I feel more relaxed already, I tell ya.
To my palate, the best, most flavorful tomatillos — especially in salsas, where their flavor is so distinct — are the small, purple-tinted milperos. Ranging in size from cherry-tomato-ish to itty-bitty pea-sized, out of the husks milperos look like a bag of marbles. Most are green, a few are white, some are deep purple, but the beauties of the crop are almost pearlescent, with swirls of lavender and sage. Alas, the colors turn to a uniform green as soon as they're heated, but their intense flavor lingers on. Even their husks are pretty; the veins are purplish against a khaki-colored lace.
We celebrated Dia de los Muertos yesterday by eating Primavera green-chile tamales with our fresh batch of homemade tomatillo salsa and a dollop of rich organic, local sour cream. Yum.





This salsa smells impossibly sour while you're cooking it down, but fret not… all will be well when the simmering is done. Don't be tempted to skimp on the acids; they're necessary for safely preserving this naturally low-acid food.
Tomatillo Salsa
makes 6 half-pint jars
3 pounds tomatillos, chopped (weight after husking and washing)
1-1/2 cup chopped onion
5 serrano chiles, minced (not seeded or deveined, unless you want a milder salsa)
1 medium fresno or red jalapeño, minced (not seeded or deveined)
6 cloves garlic, minced
1T ground cumin
3/4 tsp salt
1/4 cup cider vinegar
1/4 cup lime juice
Prepare a boiling-water canner: Fill it half full of water and heat to a simmer. Keep canning jars and lids warm in simmering water.
Combine all salsa ingredients in a large saucepan. Bring to a boil, then reduce heat and simmer 10 minutes. Pass the simmered salsa through a food mill fitted with the largest disc.* Return the milled salsa to pan and bring back to a simmer. Adjust salt and seasoning as needed.
Ladle hot salsa into clean, hot jars, leaving 1/2-inch headspace; remove air bubbles and wipe rim. Center hot lid on jar; apply band and adjust until fit is fingertip tight.
Place the filled jars in the canner, and bring to a rolling boil. Process at a full boil, uncovered, for 15 minutes. At the end of processing time, turn off heat and raise the canning rack to the upper level and let jars sit above the water for ~5 minutes to gradually stop boiling. Remove jars to a cooling rack, and leave undisturbed until thoroughly cool. Check lids for seal after 24 hours. Lid should not flex up and down when center is pressed.
* Note: You don't want to use a food processor in place of the food mill, as it will whip air into the salsa, which could end up trapped as trapped bubbles during canning. If you don't have a food mill, just be sure to chop everything very fine before cooking and enjoy the chunkier texture of your salsa.