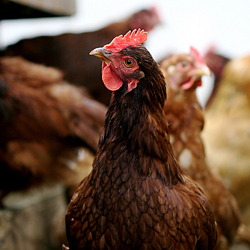 Last year, when I discovered — after reading Bonnie Powell's excellent post — that the Judy's Family Farm eggs I'd been buying at the Ferry Plaza Farmers Market were the product of an intensive factory operation called Petaluma Farm, I was pretty pissed.
I first blamed CUESA, the market's organizers, for allowing me to be duped. But soon I realized the real culprit was my own ignorance, and I directed my anger where it properly belonged. It was foolish, after all, to expect that all food sold at the Ferry Plaza market would meet some rudimentary ethical standard and that the products would be sold by, you know, actual small farmers. I really should have wondered how Judy's managed to sell their eggs for a third of the price of Marin Sun or Eatwell, but I was blinded by the almighty bargain.
My frustration at having been deceived spurred me to pay closer attention to how the food — especially the eggs, dairy, and meat — we buy at the market is really grown. I spent the better part of 6 months asking a lot of questions, and I am sure some farmers got pretty sick of me. But when all was said and done, I was pleased to realize — with the exception of this one major blip in the egg department — that the Ferry Plaza was full of real farmers whose animal-care practices I can support in good conscience.
But now, with the attention CUESA has given Petaluma Farm as part of their coverage of Proposition 2 — the California initiative that would require all caged and crated animals the exceedingly modest consideration of being able to stand up, lie down, turn around, and extend their limbs — I feel I really must speak up and question their motives as an organization.
To put it in perspective: I realize that, as recently as last year, there weren't enough pastured eggs to meet demand. Egg aficionados lined up before the market opened, and latecomers (or even on-timers) were often heard sighing over how they'd been beaten to the punch yet again. I'd like to think that the decision to permit this…. shall we say "less-than-ideal" vendor was a matter of filling in the gaps; local and quasi-free-range eggs are better than nothing. But now that Marin Sun, Eatwell, Marin Roots, and Soul Food offer a steady supply of pastured, humane egg options, I'm shocked that CUESA continues to allow large-scale, factory producers to sell at the Ferry Plaza market. There's no excuse left that I can find.
But the thing that really sticks in my craw is that CUESA offered the bully pulpit of a prime feature spot in their weekly newsletter to the specious anti-Prop 2 arguments of Petaluma Farm's Steve Mahr.
Mahr's got a right to his opinions, and (for now at least) the legal freedom to cram as many laying hens into confinement as he sees fit. I'm glad to learn that he raises at least some fraction of his hens in a cage-free environment. But the hypocrisy of passing off his blatantly industrial product as the sustainable and humane gleanings of some idyllic family farm needs to be called out. And I'm absolutely furious that CUESA is letting it pass.
Mahr claims in the CUESA story that, "I will not be in business if Prop 2 passes." To which I say: "It's no worse than you deserve, you greenwashing jive-turkey." At least the eggs sold at Safeway aren't pretending to be anything other than the inhumane, factory-produced crap you'd expect.
Of course, pastured eggs are still a luxury that many shoppers can't afford. But not everyone has room in their weekly food budget for pastured beef, either, and yet you don't see CAFO meat at the Ferry Plaza. If CUESA is going to claim that one of the 10 reason to shop to shop at their farmers market is "to promote the humane treatment of animals … who have been spared the cramped and unnatural living conditions of so many of their brethren," then that's what should be offered, period. And they need to get on the bus and support Prop 2 without any ifs, ands, or buts.
Pastured Eggs at the Ferry Plaza
Eatwell Farm
Nigel & Frances Walker
5835 Sievers Road
Dixon, CA 95620
organic@eatwell.com
866.627.2465
Marin Sun Farms
David & Julie Evans
10905 Highway 1
Point Reyes Station, CA 94956
david@marinsunfarms.com
415.663.8997
Soul Food Farm (at the Prather Ranch store)
Alexis & Eric Koefoed
6046 Pleasants Valley Road
Vacaville, CA 95688
soulfoodfarm@aol.com
707.469.0499
Marin Roots Farm
Jesse Kuhn
PO Box 74, Petaluma, CA 94952
info@marinrootsfarm.com
415.309.2474
More information about Proposition 2
Yes on Prop 2 official site
Michael Bauer (SF Chronicle)
Los Angeles Times (op-ed)
New York Times (endorsement)
Grist Environmental News
Oprah Winfrey Show
The Ethicurean