This post is the second of 12 installments in the Dinner on a Deadline series, a project designed to help you get thoughtful meals on the table quickly without resorting to processed convenience foods. Each week features homework to help you put the lessons into action, plus a sample recipe to show how we use the week's tips in real life.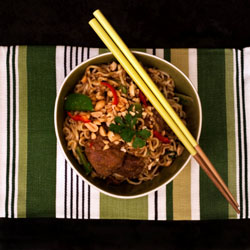 So, gang — how's the menu planning going? From my point of view, the homework looks great! Between the comments on last week's post and the Twitter stream, I've seen some good menu plans, lots of delicious meals made from items already on hand, and many good tips for weeknight dinner prep. So let's move on with some more ideas for getting food on the table.
One of the most powerful weapons in the weeknight-dinner arsenal is a well-stocked pantry. Now, when I say "pantry", I hear all the small-kitchen cooks groan. But a pantry doesn't have to be large or lavish to be effective — even a single, dedicated shelf next to the dishes is better than nothing. No matter whether you have an enormous pantry or a tiny one, keeping staples on hand encourages spontaneous meals and lets you shift gears quickly when your weeknight throws you a curve. And, stocking up is especially important if you're not a particularly dedicated meal planner.
Once you stock your pantry, keeping it up to date needs to be a continuous process. At our house, we opt for the instant-replacement method: If we use, say, a package of penne, we add penne to the grocery list and buy it on our very next trip to the store. When we get down to the last few ounces of soy sauce, it goes on the list, too. We never wait until we need a staple item to replace it. In the case of items we use a lot, we even keep backups on hand when space permits.
Speaking of space: The elephant in the room here is that most people's pantries (including mine, until I tidied it up last weekend) look like a disaster area. Once you clear away the clutter, you may find yourself with a lot more storage space than you thought you had. With this in mind, the first real step in stocking the pantry is a thorough clean-up. I know the idea of spending your precious kitchen time tackling a long-postponed chore isn't terribly appealing, but the payoff is huge. Even the most rudimentary kitchen organization helps make it fun to cook, instead of a hassle. Once you've got your kit organized, you won't have to dig through a mess to find things when you need them quickly. You'll also have a better idea of what you have, and what you're missing.
When it comes to quick weeknight dinners, staples are key. There are a few million articles online dedicated to stocking your pantry. (Simple Bites has a good one, with links to many others.) Every site's list is a little different — and they should be. There's no one right way to fill your shelves; the important thing is that you figure out the kinds of meals you eat (or want to eat) and stock for them. Personally, I don't like to rely a lot on the canned soups, commercially frozen vegetables, and other industrial products that some of the lists include. You know your own tastes better than I do; look through a few lists, and use them as a jumping off point.
Here's what our pantry typically contains:
• In the fridge: Eggs, cheese (something melty plus a hard cheese like Parmesan), bacon, milk, sour cream, kimchi and/or sauerkraut, tortillas, bread, butter, mushrooms, olives, mustard, peanut & almond butters, maple syrup
• In the garden: Fresh herbs, lettuce, carrots, radishes, celery, lemons, green onions, one or two seasonal vegetables (peas, tomatoes, etc.)
• In the cupboard: Pastas, rices, polenta, dry beans, posole, coconut milk, chiles (pickled/dry), tomatoes, pressure-canned chicken stock, pickles & preserves, soy sauce & fish sauce, canned tuna, shallots & onions, garlic, ginger, potatoes, crackers, tortilla chips, nuts, salsas, herbs & spices, oils & vinegars, baking supplies
• In the freezer: Precooked beans and grains; pie and pizza doughs; pasta sauces; curry pastes; leftover bread/buns; leftover cooked meat; precooked meatballs; quick-thawing raw proteins (ham cubes, chicken parts, sirloin tips, ground meat, duck confit) in meal-size packs; sausages (Italian, chorizo, breakfast, 'nduja); pancetta & guanciale; butter; blanched garden veggies; ice cubes of many types: chicken stock, lemon and lime juice, egg whites, tomato sauce/paste, chipotle en adobo, etc.
(I know there's a a lot of untapped detail in that last bullet item; we'll talk more about stocking the freezer later in the series.)
Looking at our list, you can probably already see that, even without a recipe, I can get a number of basic dinners on the table using just what we have on hand. This week, I made a simple Asian-style noodle dish using beef from the freezer and a bunch of items from the pantry, plus a few vegetables from our farm box. Pretty much once a week — and more often when we've been traveling or otherwise unable to get to the farmers market — we eat this way, "shopping" from the items we've put aside for quick weeknight meals.
Once you have a well-stocked larder, you'll be amazed at how handily you're able to put together meals, even when you've got "nothing" in the house. After just a few weeks of building meals from what you've got on hand, you'll start to develop a repertoire of pantry-based suppers.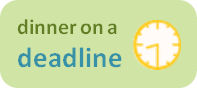 In addition to this week's recipe below, here are a few meals we make using pantry staples and just one or two fresh ingredients:
- Simple chilaquiles
- Fondue mac & cheese
- Weeknight paella
- Korean-style tacos
- Deep-dish pizza
- Pasta carbonara
- Pea and proscuitto risotto
- Pasta with leafy broccoli and sausage
- Sopa Azteca (tortilla soup)
- Ham, chickpea, and orzo salad
- Chorizo, potato, and mushroom tacos
That's not an exhaustive list, by the way — that's just the pantry-centric ideas we've already blogged about. Once you've got your own pantry stocked, you'll see the possibilities and patterns in your own meals.
This week's homework
Novice pantry-stockers: Organize your pantry space: Take everything out and put it on the counters, wipe down the shelves, and then put things back in an order than makes sense based on the way you use them. Same thing with the fridge and the freezer — they're an extension of your pantry, after all. Give away (to the food bank / coworkers / freecycle) anything you don't want to eat that's taking up space. Think about the kinds of meals you like to eat, make a list of what's missing, and stock up as your budget permits. Plan and cook at least two meals, each using a pantry ingredient you already have.
Extra for experts: Tackle the organization project above, plus one of these two options: (1) Write a post about at least 5 items in your pantry, and why they've earned a permanent spot on your shelves. (2) Buy yourself one splurge-worthy ingredient (Calabrian chiles, a new kind of rice, heirloom beans, etc.) and cook with it, using at least two existing pantry ingredients that you've let languish.
This week's recipe
I love this recipe — which really is more like a template — because it's so flexible. Don't have beef? Use the same quantity of sliced chicken, butterflied shrimp, ground pork, or tofu cubes. You can use pretty much any Asian noodle, too: Fresh, dry, egg, wheat, rice, curly, straight — they all work, so long as you've got close to the right quantity going into the wok. Any crunchy vegetables can take the place of the peas; we've used boy choy pieces, green beans, and celery cut on the bias; don't be afraid to experiment.
When it comes to Thai-style curry paste; we like the Mae Ploy brand that comes in a plastic tub (it keeps almost forever in the freezer if you roll up the inside bag tightly); this recipe is especially good with the red and yellow varieties, but it's flexible enough to use what you've got. Heat and saltiness vary widely, though, so if you're using another brand, start out with less paste; if you find the end result is a little bland, spike it up with some fish sauce and/or chile flakes at the table, and make a note to adjust the recipe the next time. I like to mix it up by using half red curry paste and half peanut butter, which makes an especially tasty combination for little kids or other spice-phobic eaters.
This recipe can be made by one focused cook in less than 30 minutes from start to finish, but to streamline the post-work chaos, I generally do all of the prep the night before, then store all of the measured and cut ingredients in the fridge overnight.
Thai Curry Beef Noodles
- adapted from Big Bowl Noodles and Rice
For two servings — multiply as needed:
4 to 6 oz dry Asian wheat or egg noodles (for substitutions, see end of instructions)
Peanut or vegetable oil
6 oz beef (such as flank steak or sirloin tip) sliced thin across the grain into 2-inch lengths
1-1/2 tsp dark soy sauce (we like Kimlan Super Special)
1 tsp sesame oil
1 tsp cornstarch
1/3 cup homemade chicken stock (or water — canned broth is too salty)
1-2T fish sauce (depending on the saltiness of the curry paste)
1T fresh lime juice
1-1/2 tsp sugar
1/2 to 1 red chile (such as Fresno), julienned
1/4 cup thinly sliced red onion
a handful (12 to 15) snow or snap peas, cut in half on the diagonal
1 to 2T Thai curry paste (depending on how hot you like it; you can use half peanut butter)
1/4 cup peanuts, chopped
a few tablespoons chopped cilantro leaves
Bring 4 to 6 quarts of water to a boil and cook the noodles according to package directions. Drain, run under cold water, drain again, and toss with a teaspoon of peanut oil; set aside.
Mix the beef with the soy sauce, cornstarch, and sesame oil. In a separate bowl, mix the chicken stock with the fish sauce, lime juice, and sugar and whisk to blend. Set both the mixtures aside.
Heat 1/2 cup oil in a wok (or your largest skillet) over high heat until very hot but not smoking; add the beef, stirring to separate the slices. Using a slotted spoon or a spider, remove the meat to a clean plate when still pink in the center. Pour off the oil into a heatproof bowl.
Wipe the wok clean and return it to the burner over high heat. When hot, add 2T of the reserved oil. Add the chiles, onions, and peas; cook, tossing rapidly, until well coated with the oil. Scoot the vegetables to the side of the wok and add the curry paste to the bottom. Stir the paste around briefly in the oil to release the flavor. Add the seasoned stock mixture; bring to a boil, stirring or whisking to distribute the curry paste. Then, add the noodles.
Cook, tossing the noodles until mixed with the sauce and vegetables. Add the beef and toss briefly until everything is heated through and well mixed. Remove the cooked noodles to a platter, sprinkle with peanuts and chopped cilantro, and serve.
–
If you want to substitute other noodles, keep in mind that fresh noodles gain very little mass when cooked, where dry pastas can double or triple in size. You want 8 to 10 oz of cooked noodles for two servings. If you find you've prepped too many noodles, they keep for a day or two in the fridge, provided they're tossed liberally in oil and well covered. They make a great snack or lunch when reheated with a little peanut butter, a splash of water or stock, and a sprinkling of chili flakes.