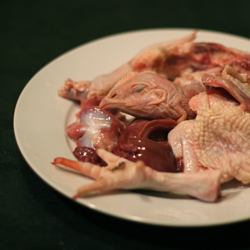 Once upon a time, there was a spoiled teenager named Anita who refused to eat ribs, chicken legs, or any other meat shaped like a body part.
One year, the child's mother took ill on Thanksgiving morning, with a gaggle of relatives due to descend upon the family home in mere hours. The mere thought of sticking her hand inside (inside!) the body of a turkey made the girl turn green around the edges, but there was nothing to it but to do it: In went the hand, out came the slimey giblet bag. In a word: Gack!
Years later, the girl grew up and got over herself. A culinary school butchery class, which involved parting out cases of chickens and breaking down sides of beef, rid her of the last vestiges of meat squeamishness. The woman became secure with her place on the food chain, an unrepentant carnivore at last.
Flash forward to 2007: In a crisis over the disappearance of Hoffman Farms chickens from the local farmers market, we started buying our weekly roaster from Marin Sun Farms. We'd blithely strolled past their stand for months, seeing the signs for chickens, never venturing in to price them; our Hoffman loyalties were that strong. But the disappearance of their main competition emboldened these farmers, and they began putting their wares on more prominent display: First in bins by the edge of their stall, then moving to a large, copiously iced display — complete with protruding chicken feet — right out in the pathway. (Just the other day, I saw a group of tourists laughing nervously and taking pictures; it's quite the sight if you're not used to such things.)
The first afternoon of our patronage, we brought our fine-footed fowl home. The idea of cutting off chicken feet didn't faze me a bit, I smugly noted. It wouldn't be any worse than snipping off wingtips, really. I'd seen enough dim sum to grasp the comic possibilities of disembodied chicken feet, and I knew their gelatinous cartilage would add body to our next batch of stock.
I plopped the bagged bird in the sink and turned on the water. Cutting through the rubber band that held the bag shut, I accidentally grazed my arm on a stray claw. (Note to self: Chickens — at least the ones that aren't factory-gorged on corn — scratch for their supper.) But the sting of avian revenge was no match for the shock I got when I pulled Henny Penny out of the bag: Her frickin' head was still attached!
Or, well, mostly attached. The neck had been slashed (quite tidily) and her noggin wobbled around on the impossibly long neck in a rather ghastly fashion. Her tiny eyes were mercifully shut, but you could quite clearly make out what her features must have looked like, mere days ago. A tiny comb was clearly visible at the crown of her egg-sized skull. Oh, my…
Snapping out of my guilt-laden reverie, I laughed aloud, amused at how a small, dead hen could rattle me so. Would I have bought her, had I know she came fully equipped? Probably. But coming upon an unexpected beaky face in the bottom of the bag was more than I was expecting. I wondered whether the farmers enjoyed imagining the shock they inflicted on unsuspecting city slickers, but most likely they never gave it a moment's thought. It's a chicken, to them. Their livelihood, our supper.
It gets easier, week by week, staring my dinner in the face on a Sunday afternoon. I've even come to see the gallows humor in the macabre ritual of removing heads, necks, and feet. I'm not sure I could ever kill a chicken, maybe not even gut a dead one (I'm still not all that happy about innards, truth be told). But if I'm going to be an ethical carnivore, I figure that looking my meat in the eye is the least I can do. And so I do, with silent thanks to the farmer and the chicken.
And then I cackle like a fiend as I throw the dismembered bits in the stockpot. Muuu-huuu-huuu-ahhh!
Chicken Stock, Simplified
4 to 5 pounds raw or frozen chicken bits (wings, backs, necks, and feet)
6 quarts filtered water
1 pound mirepoix, very large dice (1 inch or so)
- 1 large onion
- 2 medium carrots
- 2 large celery stalks, trimmed
Bouquet garni
- 2 cloves garlic
- 8 peppercorns
- 3 whole cloves
- 2 fresh thyme sprigs
- 6 parsley stems
…tied with twine in a cheesecloth bundle
In your largest pot, bring water and chicken parts to a simmer; reduce to a lazy bubble and cook for 3 hours. Add the mirepoix and bouquet garni and cook for an additional hour. Strain through cheesecloth or a very fine mesh sieve into a large bowl (or a cool stockpot). Cool to room temperature using an ice-water bath or immersible stock chiller, then chill completely overnight.
The next day, skim the fat and measure stock in 2-cup portions into quart-size freezer bags. Holding the bag upright, squeeze to remove excess air, then seal. Freeze bags flat on a rimmed cookie sheet until completely solid; they can then be stored in your freezer's pull-out bins, filed like flip-cards along with pasta sauce and other flat-packed liquids. Any odd measures of stock can be frozen in ice-cube trays for quick use in pan sauces and other recipes requiring small amounts of liquid. Store frozen stock for up to 6 months.