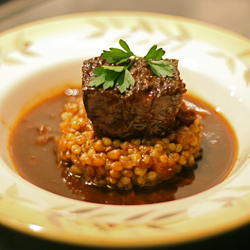 Thanks for sticking with us through last week's pity party. I'm slightly embarrassed that I bemoaned the end of avocado season and the near-disappearance of local tomatillos, when any locavore worth her salt would just suck it up, file away those recipes for the winter, and learn to love what's left.
I mean, hell, it's not like we're in some snowbound location where all we have to eat from October to May is bitter greens and root veggies. And it's called Dark Days Challenge for a reason — if it were simple, what fun would that be? So, in the spirit of pushing our eating habits into new territory, we ate seven local dinners in a row.
That's right, kids: Last week, Sunday to Saturday, we ate within our foodshed every single night. Some meals were a stretch, and we fell back on our exemptions and our "90% local" metric with a vengeance. But we were shocked and awed by the number of specialty ingredients that we could source from right in our back yard if we really looked hard enough.
Case in point: For our first meal, potstickers and a long-bean stir-fry, we were happily amazed to find gyoza wrappers made a few miles south of the house (although almost certainly from non-local flour) at our neighborhood Asian grocer. For the filling, we ground Range Bros. pork butt from the Prather boys. All of the various veggies — ginger, scallions, cabbage, and long beans — came straight from the farmers market. We hit our 90% target easily: everything except soy sauce and sesame oil was local.
Another night, we tackled a new recipe for bibimbap. Although it required imported gochujang — a fiery Korean condiment — for the topping, and both soy sauce and sesame oil for the marinade, everything else (meat, rice, veggies, eggs, sprouts, nashi, and even kimchi) hailed from within our 100-mile radius. Surprised we could cook not one but two authentic Asian dinners from 90%-local ingredients? I sure was.
Rounding out the week, there was a pot of chili with a skillet of sage cornbread, a pan of cheesy lasagne, a big batch of pot pie, and Friday night's traditional linguine Bolognese — with salads on the side and either local wine or SF-brewed beer each night. We were a little stunned to discover that all of these meals fit our challenge ground rules; We even used local flour for the pot pie's biscuit crust.
Our last local dinner (pictured above) was the most successful of all, in so many ways. We're helping a friend recipe-test his upcoming cookbook, and one of the recipes he sent us involved a dish we'd probably never have made on our own. Without divulging too many details of this as-yet-unpublished masterpiece, I think I can say that it was totally worth the lunchtime schlep over to the Berkeley farmers market to get Full Belly Farms wheatberries for this dish, rather than opting for one of the substitutions the recipe allowed.
As an added bonus, this was a 100% local meal — perhaps our first? — using Marin Sun Farms beef, homemade chicken stock (from local chicken carcasses), farmers market veggies, Bariani olive oil, homegrown herbs, Anchor Steam beer, and a jar of those Mariquita tomatoes from our home-canned stash. Not a single exemption to be found beyond salt and pepper… Mmm, delicious.
Now, I'd love to share the recipe for that stunning beef dish, but alas I am sworn to secrecy until the book is published.(EDIT: Matthew, the book's author, kindly corrected my oversight: A very similar recipe was published last spring as part of his Culinate column, Unexplained Bacon.) In the meantime, I can highly recommend our second-favorite meal of the week. This recipe makes enough to serve 8, so we froze half of the filling to use later in the winter. For a quick weeknight meal, all we'll have to do is whip up a batch of cheddar biscuits, reheat the filling, and wait patiently by the oven.
Chicken Pot Pie with Cheddar Biscuit Crust
- adapted from Gourmet, November 2007
Filling:
1 onion, chopped
2 large carrots, medium (1/2-inch) dice
2 celery ribs, medium dice
1 large parsnip, peeled, cored and cut to medium dice
1 tsp chopped thyme
3 T chicken fat or olive oil
salt & pepper to taste
1/4 cup flour
3-1/2 cups chicken stock
1 cup shelled English peas
4 cups leftover chicken, medium dice

Crust:
2 cups flour (we used 1/2 all-purpose and 1/2 whole wheat)

2 tsp baking powder
1 tsp baking soda
1/2 tsp salt
1/2 tsp black pepper
1 cup coarsely grated sharp Cheddar
1/4 cup coarsely grated Dry Jack (or Parmesan)
4T cold unsalted butter, cut into 1/2-inch pieces
2T leaf lard, well chilled and cut into 1/2 pieces
- (or substitute 2T more unsalted butter)
1 cup well-shaken buttermilk
1/4 cup cream, half-and-half, or milk
Sautee the vegetables and thyme in the chicken fat or olive oil over medium-low heat until soft but not browned; add salt & pepper to taste. Sprinkle the sauteed vegetables with flour and cook, stirring well, for 2 minutes or until the flour loses its powdery consistency. Stir in the stock, scraping up any browned bits. Add the peas and bring to a boil, then reduce heat to medium and simmer until thickened, about 5 minutes. Stir in the chicken, and adjust salt and pepper as needed.
The filling can be cooled and refrigerated (or frozen) at this point. Cook refrigerated filling within 24-48 hours; frozen filling will last 3 months if properly stored. If using immediately, lower heat, cover, and keep warm until topping is ready.
Place an oven rack in the middle of the oven, and preheat oven to 400°. If using previously made filling, reheat thoroughly over low heat before proceeding.
To make crust: Sift together all dry ingredients into a large bowl. Add the cheeses and toss to coat with flour mixture. Add butter and cut into the flour using a pastry blender or your fingers until dough resembles a coarse meal. Add the dairy products and stir just until dough comes together; do not overmix. Set aside.
Transfer the filling to two pie pans or a 13×9 casserole. Drop the biscuit dough in 8 large portions on top of the hot filling, leaving space for filling to bubble up, if possible. Bake for 35 minutes, or until biscuits are risen and golden brown. Let stand 5 to 10 minutes before serving.