This is a housekeeping post in the Dinner on a Deadline series, a project designed to help you get thoughtful meals on the table quickly without resorting to processed convenience foods. Each week features homework to help you put the lessons into action, plus a sample recipe to show how we use the week's tips in real life.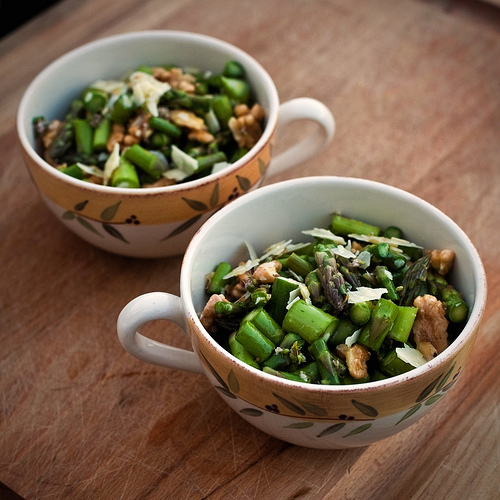 How's the menu planning homework going? We'd love to hear about your successes and your struggles, either here in the comments, or — if you're blogging — with a trackback to your post. And, if you have any menu planning questions (either from us or other readers), we'll get them answered.
(Oh, and that beautiful weeknight dinner to the left? That's our riff on Shauna and Dan's asparagus and walnut salad, one of the most interesting and hearty salads I've enjoyed in a long time. We used thyme and Parmesan in place of their tarragon and mizithra. Sometimes you've gotta improvise to get dinner on the table.)
Schedule shift:
I'd originally thought to post new Dinner on a Deadline topics on Fridays, to give people a chance to use the weekend for their homework. But after realizing that most of you are coming here on Mondays and Tuesdays, I'm going to adjust the posting schedule. This way, you'll have the week to think about homework (and tackle it, if your schedule permits) and then the weekend to kick it into gear before the next post goes up on the following Monday. But don't let my posting schedule pin you down; you should feel free to tackle each of the projects on your own pace.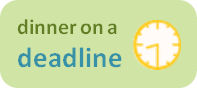 Recaps (or not):
A couple of commenters have asked where they should post their homework, which took me (pleasantly) by surprise because I hadn't really expected participants to post weekly updates  — although I am flattered that you would, and I will love to read them all. Please do leave a comment on the appropriate post so that other readers can follow along. I won't be recapping each week; getting a new Dinner on a Deadline post up each week is about all I can handle at this point. But at the end of the series we'll have a blog event where I'll encourage everyone to post their graduation homework — and I will recap those posts in a final roundup.
Tweet tweet:
I've got a new Twitter account — @DeadlineDinners — that you can follow if you want to know when each Dinner on a Deadline post is live, or to get midweek updates. Our existing @MarriedWDinner account will stay focused on the usual mix of food and blather.