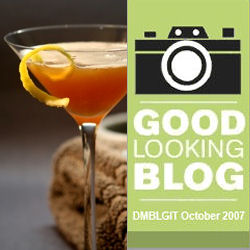 First, a fun bit of good news: My photo of Sweeney's cocktail was recognized for a host's award in last month's edition of Does My Blog Look Good in This. Considering all of the amazing entries that were submitted — more than 100 in all — I was stunned and flattered to be chosen again as a Good Looking Blog. (Seriously, I'm not just being gracious: Go check them out, and be prepared to drool.)
But now I'm faced with a classic dilemma: How can I top my last success? October's posts featured such a bumper crop of (strangely similar) photos that I can't decide which I like the best. Or, more to the point, which one might catch the judges' eye.
Would it be the ghoulish (but oddly gorgeous) chicken still-life from Murder Most Fowl? Perhaps the sinfully creamy, toffee-topped cake as seen alongside Sweet & Spicy? Or maybe the fascinating rhythm of a bowl of Brussels sprouts, a la Dark Days Ahead? Might they prefer the rustic crate of heirloom apples illustrating Seasonal Stealth?
Oh, decisions, decisions…
Wanna help? Aces, I knew I could count on you. Here's how:
First, consider the DMBLGiT rules. It's not just all about the best photograph, so it pays to know what the judges are looking for. Prizes are awarded for edibility, originality, and aesthetics, plus an overall set of winners.
Next, click through to the Flickr set and check out each image at its full 350-pixel submission size. Then, pop back over here and vote in the poll below.
But we've got to hurry: The submission deadline for this month's DMBLGiT is Friday, 11/30. I'll leave the poll open until Friday at noon, then send in my entry under the wire. Feel free to leave comments explaining your vote, or even suggest an alternate image from the October archives, if you prefer.
Update: Thanks to everyone who voted!
The final tally was: Chicken 12, Sprouts 5, Apples 2, Cake 1.