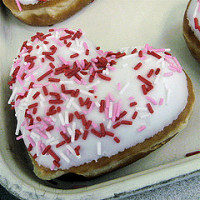 When I was a little girl, my dad was my first food buddy, the adventurous eater who constantly egged me on to try new things — one of my first childhood memories involves Pops bribing me to eat blueberries. His years in the Marine Corps left him with an unquenchable Tabasco addiction, which I'm sure shaped my spice-loving soul; I became a fan of all things picante at a young age, under his watchful eye.
As I grew up, he'd let me cry on his shoulder when the boys were mean. "I know it's not the same, but I love you…" he'd say. And then he'd take me out for ice cream.
And on that point, he never wavered: Ice cream soothes all pains, salves all indignities. So its fitting, perhaps, that the last thing he wanted, the last thing he ate, was a scoop of Nutty Coconut from 31 Flavors.
As we sat around this afternoon, holding his hand, a surprising number of "Dad stories" centered around food. We never let him live down the time he made us waffles using sesame oil, creating a crazy (dare I say inedible?) supper and filling the house with the lingering scent of stir-fry gone crazy.
We jokingly refer to my mom's friends here in Henderson as the Asian Food Mafia — they're forever getting together on some pretense or another to share food. They've been keeping us well fed, taking turns cooking for us. It's actually been quite lovely to dip into curries and boo chim gae and gai gkaprow, instead of the usual assortment of chuch-lady casseroles. Pops had a generous heart, and it's no surprise to me that this steady stream of friends and neighbors stopping by with covered dishes looked genuinely distraught by his grave state, and now by his passing.
He always sent me a valentine each year, and I always reciprocated. I sent my card early this year, and I'm glad that I did. Even though I'm married to a wonderful man (who my father dearly loved), I can't imagine Valentine's Day will ever be quite the same.