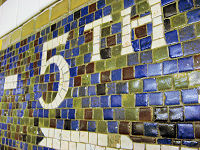 Oh, how we longed for this New York City escape! Being in separate cities most of last month, we didn't manage a proper Valentine's Day celebration, so we decided to combine a business trip and a family visit with some top-notch dining a month later. Alas, it was not to be. Oh, to be sure, we spent plenty of cash, and ate at places that everyone raves about. But good food? Not so much.
Now, I know better than to make pronouncements about the general state of New York City dining based on a few nights out. But I will say that, by the end of the week, I was downright despondent that we hadn't had a good meal to show for our efforts (or our substantial credit-card expenditures), and hungry to be back in San Francisco.
Tuesday evening, I landed at JFK, hopped a cab to meet Cameron at his hotel, and unpacked at a leisurely pace. After all, he'd already eaten dinner, and my body told me it was 5pm, not 8. A bit later, we hailed another cab up to The Carlyle Hotel, where I'd dreamed of having a world-class cocktail (and the ground-to-order hamburger promised by the online menu) at Bemelmans Bar while Cam kept me company with a drink of his own.
We were a bit surprised to find the bar overwhelmed by a jazz trio, but not nearly as surprised as we were when a waiter slapped a "$20 per person cover charge after 9:30pm" sign on our table just as our butts hit the banquette. Huh!? Doing a little quick math — $20 per drink, $40 in covers, and another $20 for the burger — I quickly realized this round of drinks would happen some other night, before the cover charge kicked in.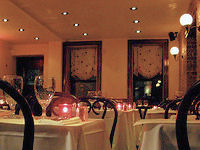 Back out on the sidewalk, Cameron remembered that a co-worker had mentioned a "pretty good" bistro on the Upper East Side that had an impressive Belgian beer selection. A quick online search turned up B. Cafe, and a quick stroll led us to their door.
The beer selection was nice, if not as stunning as some sources would lead you to believe — I think my time in Seattle has forever spoiled me into expecting too much when someone says "beer selection is without peer" — and the food was good, in an unambitious sort of way. I got my burger, at least, alongside properly made frites.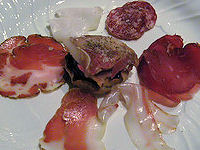 Wednesday night, we met Cameron's sister and bro-in-law for dinner at Del Posto. Arriving a touch after our 9pm reservation time, we were asked to wait in the bar. Where we waited. And waited. And waited. No offer of drinks, no apologies, no checking back to assure us we hadn't been forgotten.
As 9:45 rolled around, we eventually were escorted to our table. After all this wait, the food — with the exception of a mind-alteringly delicious risotto and a solid salumi platter — turned out to be no better than fair to middlin'. Lowlights include bitter foie gras, lobster spaghetti al dente to the point of some serious crunch, squishy pork, so-so desserts. But the true terror was the service.
Despite having no fewer than four people theoretically serving our table, we were constantly ignored, offered one another's food, and generally given the bum's rush. The grand finale? Our waitress announced after our mains that her "partner" (and let's be real, he's a busboy) would be taking care of our desserts. Honey, darling — is it our fault that we're the last ones in the place? (And, while we're in question mode: Why does it look like a Cheesecake Factory in here?)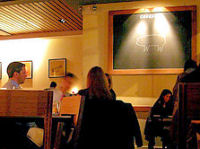 When all else fails, aim lower. And earlier. We arrived at Cookshop on Thursday night a hair before our 6:30 seating call, and were ushered promptly to our table — where we sat, and sat, and sat for close to 20 minutes without so much as a "can I get you a drink?" Gadzooks.
We finally flagged down a waiter and inquired, diplomatically we hoped, if perhaps we'd been seated without the host letting our server know…? (Waiter stage directions: Mumble, stammer… slink away.) Gosh, would "Oh, sorry! I'd be happy to get you a drink while we sort out who will help you" be too much to ask?
As we scanned the wine list, a strange pattern emerged. Seeing as Cookshop trades heavily on its locavore cred, we were puzzled both by the absence of New York wines — is a single Finger Lakes Riesling all one can expect amid a sea of Italian and French bottles? — and the relative scarcity of American vintages at all.
The food? Again, flawed. The best part of our meal was a plate of fried hominy we ordered to nibble with drinks: Golden-crisp, dusted in salt and tinged with just a hint of lime. Oh my-my-my! Gorgeous pork — a small chop and a big sausage — was burdened by undercooked black beans and an odd, sweet pineapple relish. The saddest part, though, was our inedible finale: a pair of sorbets — banana thyme and ginger pear — that were grainy, gluey, and not the least bit tasty. (And bear in mind, ginger + pear = delicious, in my book.) We took one bite of each, screwed up our faces, and left the rest to melt. When our waiter asked what was wrong, we told him that not only were the textures quite un-sorbet-like and the flavors beyond bizarre, but both scoops had the gummy texture of dessert left too long in the freezer. He told us that simply couldn't be the case, and brought the check. With the sorbet on it, of course.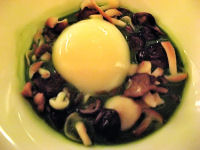 The next night, a much-anticipated meal at Blue Hill off Washington Square got off to a surreal start, as our cab drove verrry carefully down Lexington Avenue, almost alone; a freak snowstorm had dropped six inches of snow on the city after a 72-degree high the previous day.
In fairness, I can't lay all of the blame for our terrible evening at the kitchen's feet — that honor goes to the pompous gentleman to our right who was enjoying dessert as we came in, and yet persisted in ordering glass after glass, extra course upon extra course, as he lectured at great volume the couple to his other side about French politics, the trouble with today's parents, the moral imperative of naming one's children with grace, and a dozen other topics he apparently held quite dear.
Dear lord, his braying was almost enough to distract us from the fact that every last thing we ate was criminally over-salted, from the emerald-green lettuce broth supporting a bevy of Disney-adorable baby mushrooms beneath "this morning's farm egg", to the too-enthusiastically brined Berkshire pork loin (which was almost redeemed by angelic creme fraiche spaetzle).
We decided to pass on dessert, in favor of after-dinner drinks when I spied Chartreuse VEP on the menu — I've always wanted to try it, but blanched at the $100+ price for a whole bottle. Was I crushed when they didn't have it? Not so much as I was unsurprised, as this was the third beverage we'd asked for during the course of the meal that they'd "just run out of". Uh-huh.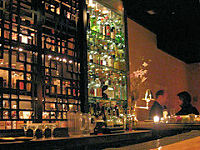 The bright spot in our week was, undeniably, the cocktails: We passed two happy evenings at Pegu Club, where the lovingly crafted drinks, chipper bartenders (yo, Nate and Alister!), and cozy atmosphere reminded us of our favorite bar.
We also popped into Flatiron Lounge on our way to Del Posto, and had a couple of rounds of vintage-esque libations that were a touch off-balance, but on the whole rather tasty (especially as we were seated at a table, not the bar).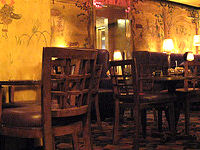 And we did finally make it back to Bemelmans Bar on Saturday evening. Yes, we still ended up spending the $100 we balked at paying before, but it bought us five drinks, a table for four, and brilliantly attentive service. It was a lovely scene, drinking our spendy cocktails surrounded by Ludwig Bemelmans' dreamlike murals, served by white-jacketed waiters under a rosy light. It simply oozed five-star, old-school cocktail charm… my only quibble is the nasty fake maraschino cherries in their otherwise stunning Manhattan.
B. Cafe
240 E. 75th Street
New York, NY 10021
212.249.3300
Del Posto
85 10th Avenue
New York, NY 10011
212.497.8090
Cookshop
156 10th Avenue
New York, NY 10011
212.924.4440
Blue Hill NYC
75 Washington Place
New York, NY 10011
212.539.1776
Bemelmans Bar at the Carlyle
35 E. 76th Street
New York, NY 10021
212.744.1600
Flatiron Lounge
37 W. 19th Street
New York, NY 10011
212.727.7741
Pegu Club
77 W. Houston, Second Floor
New York, NY 10012
212.473.7348 (PEGU)