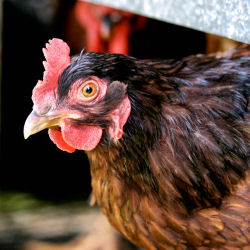 Before Niman Ranch started raising their herds on Iowa feedlots, their marketing materials bragged about "happy cows with ocean views". Last Sunday, as we popped over the crest of Pierce Point Road and saw limitless green pasture dotted with black steers overlooking the deep blue waters of the Pacific, I gasped: It was exactly the scene that I'd held in my mind's eye all these years. Only this land and these cattle belong to Marin Sun Farms, the ranch that supplies us with most of our eggs and meat.
Even a week after our visit, I'm having a hard time expressing the depth of my awe for what David Evans is doing out on his Historic H Ranch, just 50 miles north of San Francisco. David's family has farmed this same land since the early 1900s, although they were forced to sell it in the 1970s under the eminent domain act that created the Point Reyes National Seashore. The family leases back the land under what seems to be very tenuous circumstances: 5 year terms and government oversight of terribly minute details like the size of chicken flocks. Needless to say, it's not the sort of sustainable permanence that makes this consumer particularly content.
Pronounced David's way, the enterprise responsible for much of our weekly protein is properly known as "Marin Sun Farms" not "Marin Sun Farms." Like his mentor Joel Salatin — who famously explained to Michael Pollan that he was a "grass farmer" — David takes pains to emphasize that his husbandry converts solar energy, by way of living pasture, into proteins that humans can digest. It's half clever and half hokey, but undeniably true.
We started our tour overlooking the pasture where cows and calves ambled up and down spring-green hills, lolling in the lush grass or drinking from a large, clear pond. David talked at length about his ideology and his farming methods, explaining how herds — both chickens and cows — are moved to a different patch of land each week, preserving the pasture from over-grazing and enhancing the soil with their manure.
We peeked into a converted freight trailer turned chicken nursery, spying four gaggles of Easter-perfect chicks peeping around under heat lamps, pecking away at their feed. From there, we strolled down a wide lane to look in on David's sister's goat herd, busily clearing a scrubby yard where vegetables had been grown over the previous winter.
Beyond the goat yard, we saw two quonset hut-shaped structures on a distant hillside, our first glimpse of the farm's egg-laying operation. Built of canvas-like material stretched over simple wood frames, these chicken houses open directly onto open pasture, without any physical barriers to any one of the chickens flying or wandering off. Apparently their social structure makes that unlikely; they're much more apt to leave in the clutches of a predator, according to David. Perhaps half of the chickens roosted inside their homes, and the remainder scratched and pecked and flapped away outside in the open air. Glancing at the wide range of breeds, I suddenly understood the diversity of the colors and sizes of the eggs in our weekly dozen.
Many of us remarked with surprise that this egg-laying flock included a fairly large number of roosters, in addition to the laying hens. "I don't do it so we can say the eggs are fertile," said David, "But I know that I wouldn't be happy in an environment without females, and I don't think any of you ladies would be happy in a world without men." Even as an unrepentant omnivore, it's hard to wrap your brain around someone who makes his living selling meat treating his product with such humane regard.
Up the road a piece, we called on the broiler flocks, grown-up versions of the fuzzy peeps we'd seen pecking in the nursery. Penned in movable, mesh-covered yards — half in sun, half in shade — these birds were, quite frankly, the ugly ducklings of the farm. Where the laying hens are diverse and beautiful, Cornish Cross broilers look like the freaks of nature we've bred them to be. Sparsely feathered, dull around the eyes, and unbelievably gawky, these aren't birds you feel too much sentiment toward. Still, they're cared for with the same meticulous attention. They're fed organic cracked grain, supplementing all the insects and grubs they can forage from their patch of pasture. At the end of the week, when they've cleared the pests and fertilized the land beneath their enclosures, their coops are canted up on a large dolly and rolled forward to a new stretch of green grass.
Sounds bucolic, and it certainly looks that way, too. Are things 100% perfect on this pastoral land? I'm sure they're not. I would have been happier not knowing that Marin Sun Farms broiler chicks are fed imported Chinese soy until they're old enough to digest corn and grubs. Or that David feels that heirloom birds are just too expensive (twice the cost of the already pricey hybrids he brings to market, he says) and don't taste any better than the ugly mutants. Or that most of the calves born at his parents' H Ranch operation are destined for life on the feedlots of the Midwest, because there simply isn't enough demand for pasture-raised beef. But despite all of the things that I wish they were doing more-perfectly, the simple fact is that I am in awe of the 99% that Marin Sun Farms is doing exactly right.
Rounding our way back to the main barn, David stopped to talk about the on-farm 'processing' — that is, slaughtering — that farmers are, thankfully, still allowed to do for their own poultry. As he explained that the next part of the tour was occasionally more than some visitors had bargained for, I finally focused beyond David's shoulder, at last noticing a critical part of the farm that had previously escaped my notice. Having read Michael Pollan's description of the Polyface Farms "abattoir without walls," I knew enough to recognize it: The metal cones where chickens are killed and bled out, the plucking machine with its hundred rubber 'fingers', the well-worn worktables, the buckets for the blood and guts that get turned into the compost pile to amend the land. No roof, no walls; everything open to the sun and the wind, nature's original sanitizers. It was all right there… right there for anyone to see, to understand.
I knew well enough we wouldn't see any chickens slaughtered that Sunday — it happens on Thursdays, anyway, and the oldest of this season's broilers were still a week from market, merrily clucking away in the pasture. Nothing had been slaughtered here since the old roosters and hens had come to market last winter; the killing place smelled of nothing but the hillside around us. And yet, it had the undeniable air of purpose. I won't insult you by saying it felt holy, but I do know that there was no nervous laughter, no chatter, no wandering off to investigate something more interesting around the corner. Every one of us on that tour, kids included, was completely present there, standing inside the boundaries of the place where animals became food: The place where each bird experiences what David calls its "one bad day" on the farm.
—-
When the tour was over, we caravaned back over the road to Route 1. David treated everyone to lunch at the Marin Sun Farms Butcher Shop, a bountiful spread of Della Fattoria bread, the farm's own rib eye and roast goat, bowlsful of aioli and horseradish cream and salsa verde, and buckets of German-style potato salad with flecked with rich bacon.
But the best part of the lunch was the beverage: David brought out "a gift" — which he couldn't legally sell to us — of a few gallons of raw milk "just hours out of the cow" in oversized Mason jars. I'd shied away from buying raw milk at the stores, imagining that it would taste grassy or gamey. But oh, lord, what I'd been missing! It just tasted more milk-y, like a better version of the best milk you've ever had. Nuances of flavor, texture, and color are apparent even to the most casual observer.
Needless to say, we bought a quart of Claravale raw milk this Saturday, and I don't expect to go back to the sterile, flat stuff anytime soon. Nor do I expect I will soon forget the windy spring morning when I looked my supper in the eye and made peace with my place on this sustainable food chain.
Marin Sun Farms
10905 Shoreline Highway
Point Reyes Station, CA 94956
415-663-8997
Meat CSA memberships available starting at $270 for a 6-month session
Retail sales available at the Point Reyes butcher shop, Saturday Ferry Plaza Farmers Market and Sunday San Rafael Civic Center Farmers Market
Next farm tour: May 18, 2008
Adults $30, Kids $10
(Pre-registration is mandatory)