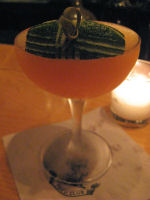 No mere pretender to the retro cocktail trend, the Pegu Club is a true vintage recipe. It's been making the rounds since at least the 1920s, and was purportedly invented at the eponymous club in Burma during the British colonial era. (If you're curious, Robert Hess has a nice DrinkBoy article on the recipe's evolution over time.)
I first tasted this drink years ago (at the Zig Zag, where else?) but I've never tried making it at home. For some reason, even though the ingredients are far from obscure, it just feels more like the kind of drink you want someone else to make.
Luckily for lazy drinkers like me, it's becoming easier to find bartenders who know how to properly construct this tangy treat. Pegu's become something of a darling in cocktail circles in the last few years, so much so that in 2005, Audrey Saunders adopted its name — and its Asian vibe — for her now-legendary cocktailian haunt. As you might imagine, getting a properly made Pegu Club cocktail at the Pegu Club is as easy as asking.
Pegu Club
2 oz. gin
1 oz. orange curaçao
1 tsp. lime juice
dash Angostura bitters
dash orange bitters
Shake all ingredients with ice, and strain into a cocktail class. Garnish with a lime.