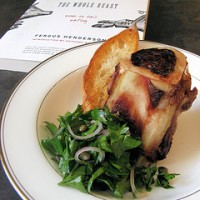 "I got nasty habits, I take tea at three
Yes and the meat I eat for dinner
Must be hung up for a week"
–"Live With Me," The Rolling Stones
Quick flashback to five years ago, just before we became legally married with dinner. We relate our honeymoon plans to friends and acquaintances and are met with raised eyebrows and a single repeated question:
"You're going to England for two weeks? What are you going to eat?"
Everything that we could fit in, thank you very much, and the list was longer than we'd have time or money for. Every Real Ale pub within reach of the Underground. Boxwood Cafe. Pork and stilton breakfast sandwiches from the Borough Market, washed down with Monmouth Coffee. Cheese from Neals Yard Dairy. English breakfast, bangers please. Eton Mess. Branston Pickle. Chip shops. Eccles cakes. Pret a Manger. McVitties. Packaged meals from London groceries as good or better than you could make with fresh ingredients.

But the meal that I was not-so-secretly looking forward to the most was dinner at St. John Bar and Restaurant. It was food that (at the time) I could only find in England. Every possible part of some ridiculously tasty animal prepared and served practically unadorned. Anita still wakes with a start from dreams of Middlewhite pork. Here I found what I adore about English cuisine: naked love for animal fat, roasted flesh, organ meats, connective tissue, and wild things from the hunt. Pig tails, venison, game birds, sliced roast beef, Yorkshire pudding.
And beef marrow. Have mercy, the beef marrow.
Roast Bone Marrow and Parsley Salad
from The Whole Beast: Nose to Tail Eating, by Fergus Henderson
(note: this recipe captures just a bit of Chef Henderson's calm, dry voice and humor. The actual cookbook is as entertaining to read as it is to use. Plus, who else is going to tell you how to deep-fry lamb's brains?)
- serves four
twelve 3-inch pieces of veal marrowbone
a healthy bunch of flat-leaf parsely, leaves picked from the stems
2 shallots, peeled and very thinly sliced
1 modest handful of capers (extra-fine if possible)
Dressing:
juice of 1 lemon
extra-virgin olive oil
a pinch of sea salt and freshly ground pepper
a good supply of toast
coarse salt
Put the marrowbone pieces in an ovenproof frying pan and place in a hot 450 degree (F) oven. The roasting process should take about 20 minutes depending on the thickness of the bone. You are looking for the marrow to be loose and giving, but not melted away, which it will do if left too long (traditionally the ends would be covered to prevent any seepage, but I like the coloring and crispness at the ends).
Lightly chop your parsley, just enough to discipline it, mix it with the shallots and capers, and at the last moment, dress the salad.
Here is a dish that should not be completely seasoned before leaving the kitchen, rendering a last-minute seasoning unnecessary by the actual eater; this, especially in the case of coarse sea salt, gives texture and uplift at the moment of eating. My approach is to scrape the marrow from the bone onto the toast and season with coarse sea salt. Then a pinch of parsley salad on top of this and eat. Of course once you have your pile of bones, salad, toast, and salt it is diner's choice.
English food is not a joke because nose to tail eating is serious business.
This post is part of the Fish & Quips event hosted by Becks & Posh, in honor of St. George's Day.