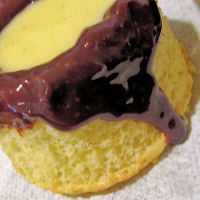 Yesterday, the Bald Guy celebrated his thirty(mumble) birthday — an occasion worthy of pulling out all the stops… and half of the pantry bins. But when you're baking in a toaster oven countertop convection oven, your patisserie options are a wee bit limited. In one of those "only in the food-blogosphere" coincidences, Chockylit and Garrett are hosting a cupcake roundup this week — and yours truly just happens to have a little six-cup muffin tin that's perfect for a half-batch of mini birthday cakes.
Not content to follow a request for "yellow cake with chocolate icing" to the letter, I started thinking about fancier alternatives. A series of chats about classic New England fare got me wondering how I could make Boston Cream Pie in a cupcake format. So I whipped up a batch of vanilla sponge cake [link removed*], some pastry cream, and a simple chocolate glaze: a cup of heavy cream, a quarter-pound of dark chocolate chips, and a tablespoon of Karo syrup.
One of the things I love about Boston Cream Pie is the way it combines a trio of simple Home Ec 101 recipes into a fun, old-timey dessert. But, as I soon discovered, the original format — cake sliced in half, pastry cream between the layers, chocolate glaze over the top and dribbled down the sides — doesn't work very well in miniature. If you add enough cream to make a distinct filling layer, the pieces won't stay together. You end up with a (delicious) mess, rather than a cupcake.
Undaunted, I tried a new method: Using a doughnut hole-cutter, I punched halfway down each cupcake, and dug out the center, ever so gently. Then I dipped the top of the cupcake in the chocolate glaze, far enough that the center got coated. I added a tablespoon of the pastry cream to the well, and filled the hole with the top half of the cut-out round. After a little more experimentation, I realized that it was easier to dip the center piece of cake in chocolate before placing it over the cream, rather than drizzling more glaze over the almost-finished cupcake. (If all this is too much to visualize, I've documented it all in a Flickr set.)
An excellent side benefit of dipping the unfilled cupcakes and their "stoppers" — rather than pouring glaze over the completed cupcake — is that the chocolate keeps the cream filling from soaking into the cake. And, it also makes a whole lot less mess.
—-
* Edited to add: We removed the link to the Cook's Illustrated recipe in July 2008 in protest of their bullying tactics.