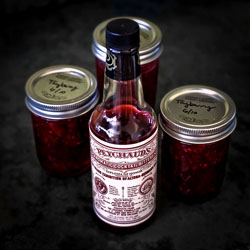 Growing up in Southern California, no summer was complete without boysenberry-flavored treats like boysenberry pie, boysenberry ice-cream topping, and even boysenberry pancake syrup. Popularized by Walter Knott at his Buena Park farmstand — years before Knott's Berry Farm morphed into Southern California's second-fiddle amusement park — this blackberry-raspberry hybrid boasts large fruit and a tart-yet-sweet taste that brings together the best qualities of both its parents.
Sadly for us in Northern California, the boysenberries of my youth are highly perishable; they don't travel well, and they need to be eaten or preserved within a day of being picked. I've only found them once locally, and their mushy texture and under-ripe flavor didn't match up to my childhood memories. On our recent Los Angeles vacation, I nearly cried with nostalgia when I found a box of boysenberries at the Hollywood Farmers Market; I took them back to our vacation house and greedily popped them in my mouth like bonbons, knowing full well that they might be the only boysenberries I'd taste for a long, long time.
But boysenberries are just one of many varieties of blackberry-raspberry hybrids, and a number of their close cousins — including olallieberries, loganberries, and tayberries — grow well and abundantly here. Of the three, my favorite are the tayberries: large-ish berries with a heady, floral aroma that highlights their Rosaceae family ties to roses and plums. Less seed-riddled than raspberries, but more complex-tasting than domesticated blackberries, tayberries may well have stolen my heart away from the boysenberries of days past. (Absence may make the heart grow fonder, but a girl has her limits.)
Anxious to preserve some of that mysterious tayberry flavor, I decided to make them the star of our entry for this month's Berries/Cherries CanJam, hosted by Well Preserved. Tayberries' spicy undertones and deep ruby-red color reminded me of the bottle of Peychaud's bitters in our home bar, and the floral notes of both ingredients mix and mingle to make one heck of a summer preserve. Our first three-jar batch was so craveworthy, I made a beeline for the berry stand the very next weekend to make a few more jars.
Tayberry-Peychaud Preserves
- adaped from Blue Ribbon Preserves
7 cups whole, firm tayberries
6-1/2 cups sugar
1/2 tsp unsalted butter
3oz liquid pectin
2T Peychaud's bitters
Prepare canner, lids, and seven 8-oz jars according to the usual method; keep jars hot until needed.
Gently rinse the berries, and drain well. (If berry seeds trouble you, you may want to mash half of the berries through a sieve.) Alternately layer the berries and half the sugar in an 8-quart pan; let stand for 30 minutes.
Gradually heat the berry mixture over medium-low heat until most of the sugar is dissolved, stirring to prevent sticking. Add the remaining sugar, a cup at a time, stirring between each cup. Heat until the sugar is completely dissolved, then stir in the butter.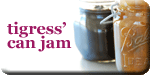 Bring the mixture to a rolling boil over medium-high heat, stirring constantly. Stir in the pectin, return the mixture to the rolling boil, again stirring constantly. Boil while you stir for 1 minute. Remove the pan from the heat, and skim off any foam. Set aside for 5 minutes to help prevent floating fruit. Gently stir in the bitters and distribute the fruit.
Using a stainless-steel canning funnel, ladle preserves into hot jars, leaving 1/4-inch headspace. Wipe rims and center lids on jars. Screw band to fingertip-tight.
Place jars in canner, ensuring they are completely submerged. Bring to a boil and process covered for 10 minutes. Remove canner lid; wait 5 minutes, then remove jars. Cool, check for seals, and store in a cool, dark place for up to a year.