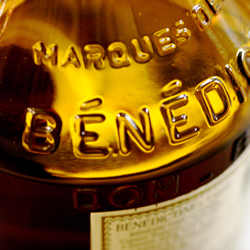 Remember last month, all those Strega concoctions we resurrected for Raiders of the Lost Cocktail? Well, it seems yours truly has been anointed the winner of said challenge, and therefore the decider of this month's challenge ingredient.
Don't be too impressed by my gold-medal status: I was the only entrant who actually followed the rules. So paltry was the attendance that I actually managed to take both first and second place. Of course, the scanty turnout might just could possibly sorta have been due to the relative obscurity of the target ingredient and the mysterious lack of published Strega recipes.
So in the spirit (hardy-har) of opening up the challenge to wider participation, let me propose a slightly more-mixable subject: Benedictine. It fits the bill quite neatly: A widely available product that has been known to gather dust, but one that well deserves a broader audience.
Like the now-trendy Chartreuse, Benedictine began its life behind abbey walls, the proprietary elixir of the monastic order that shares its name. A sweetened cognac base infused with 27 secret herbs and spices — the Colonel has nothing on those monks! — amber-hued Benedictine conjures up a set of heavenly flavors and aromas. It's also the kind of spirit that makes curmudgeonly drinkers (and drink-makers) giddy. Here's David Embury waxing poetic on the subject in The Fine Art of Mixing Drinks:
One of the oldest and best of all liqueurs, highly aromatic, and having a base of the finest cognac. It is made with consummate skill and is thoroughly aged. There are few liqueurs in the world that can compare with it.
Indeed, its balance and complexity has kept Benedictine from ever falling completely out of fashion. Although sales of herbal liqueurs rapidly declined after Prohibition, most every cocktail book in our library boasts at least one recipe for this concoction.
Certainly, it's no stranger in this parish: We've mixed up no less than four recipes bearing the blessed tipple: Erik's guest-sermon on Bobby Burns, the Pegu Club's Prince of Wales variation, a post-MxMo stab at the Cabaret, plus last Friday's very own Widow's Kiss.
One last word of warning, my children, before you venture forth in the world: Be not led astray. As the reverend Dr. Bamboo wisely cautions, the labeling of premixed "B&B" appears nearly identical to that of the pure liqueur. The wise man seeketh the right label.
Go now, and mix some more.
(Stay tuned to The Spirit World for the formal announcement and directions on how to enter, or check back here for a link in a day or so.)