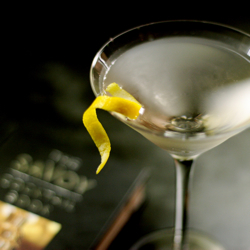 Before we get on to this week's cocktail, we have two bits of housekeeping: (1) Enter to win a chance to bring Drink of the Week to your house by buying a virtual raffle ticket for our Menu for Hope custom mixology prize. (2) Please remember to vote today for your favorite finalists in the WellFed Food Blog Awards. If you're a new visitor, here's a handy link to just our drinks content.
—
It's hard to think of Prohibition as any sort of positive force, but indeed there are a few improvements in the world of drinks that we can lay solidly at the feet of the Noble Experiment.
In the early years of the 20th century, the few females found in city taverns tended to be …professionals, of one sort or another. With the emergence of speakeasies, it became fashionable for daring young women to join their male friends for a night on the town. By the time of repeal, the presence of the fairer sex in bars was accepted fact in all but the most masculine enclaves.
Another odd side-effect of the dry years was the export of our uniquely American cocktail tradition to other climes. Rather than ply their trade with bathtub gin and other questionable potations, many mixologists took to the seas, heading for saner lands.
One such man, Harry Craddock, left New York in 1920 to become head barman at London's famed Savoy hotel. Almost single-handedly popularizing the pantheon of mixed drinks in a land where strong ale was the roughest stuff poured, Craddock was obviously a force to be reckoned with. A beacon for ocean-hopping Yanks and Londoners alike, the American Bar's popularity under his leadership drove the 1930 publication of a drinks manual called, simply, The Savoy Cocktail Book.
Amazingly, the Savoy's current head barman, Salim Khoury, is only the seventh to hold the title since the 1890s. (There must be something in the, er, water?) He trained as assistant to the legendary Peter Dorelli, and has himself been employed at the American Bar since 1969. Perhaps even more remarkable, The Savoy Cocktail Book remains in print — an updated printing of the latest edition debuted last month — and the American Bar maintains its place as a London cocktail mecca… at least for those with the means to spend £12 ($25) or more on a single drink.
But like all legends of a certain age, the American Bar is in need of a spot of nip-and-tuck. Tomorrow night, in fact, the entire Savoy will close for a 16-month, £100 million restoration. No mention is made in press clippings of plans for the American Bar, specifically, but one must imagine that the hotel's current caretakers realize the pitfalls of tampering too greatly with such an international icon.
There are least four eponymous Savoy drinks to be found in Craddock's book. Lacking the sloe gin needed to attempt the Savoy Tango, and the nerve required to build the Savoy Hotel, we were left with two versions of the Savoy Hotel Special Cocktail. Although variation #2 is distinctive, the original below is our preference.
Savoy Hotel Special Cocktail #1
2 oz dry gin
1 oz dry vermouth
2 dashes quality grenadine
1 dash absinthe
lemon peel
Shake* well and strain into a cocktail glass. Squeeze lemon peel on top.
—
* Traditional mixology calls for clear drinks to be stirred with ice, and cloudy drinks (those with dairy or juice, in the main) to be shaken — a guideline that appears to be disregarded not just here but in numerous recipes throughout The Savoy Cocktail Book.
The preface to the 1999 British edition (and possibly others) adds to the confusion. After quoting Peter Dorelli on the subject of the proper way to chill a drink — "…the ice should travel the length of the shaker, so that you awaken the drink. If you don't do this, you are cheating…" — the unnamed prologuist informs us that "There are, in fact, three ways of shaking a cocktail: If opaque or cloudy, shake it; if clear, stir gently; if solid, blend it."
Hm.
He seems to be using "shaking" as a synonym for "chilling and diluting". But, then, why are there plenty of recipes that clearly call for a stir?
Obviously, some in-person investigation is required, perhaps a direct follow-up with Mr. Khoury himself. Who's up for a London trip in, say, spring 2009?