We had no idea when we planned our MxMo theme, but this month marks the first anniversary of Mixology Monday's inception. So let's raise a glass of (deliciously doctored) bubbly to Paul, and toast the continued success of everyone's favorite spirited event.
Les Fruits Rouges
I got a little worried when the first four submissions included one or another small, reddish fruit — what a strange coincidence! (As you'll see, the field diversified eventually.)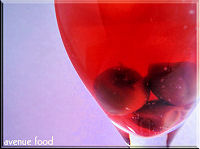 Out east in NYC's Forest Hill, Sarah at Avenue Food whipped up a cocktail of her own — featuring Morello cherry juice, rye, orange bitters, and champagne — and dubbed it the Cherry Whiskey Fizz. Whiskey and cherries and bitters… hmm, sounds like an upside-down Manhattan (from Queens).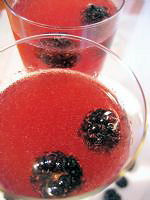 Speaking of upside down: It's autumn Down Undah in Sydney, and Anna from Morsels & Musings retells the Greek myth of Erebos & Nyx. In the cocktail version of the tale, the sparkling light of wedding Champagne pairs off with dark, dusky blackberries and creme de mures — and sparks fly (in the form of cinnamon schnapps and Frangelico).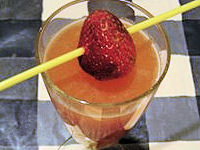 From the heartland, Pintoo of Cleveland's own Lazy Weekend whips up strawberries and apricots in the blender, and combines them in a stem with pink Champagne: Voila! Mesdames et messieurs, vous présenton: La Rouge.
Rounding out the red fruits, blackcurrants make an appearance from (aptly enough) Scandanavia: Thinking Bartender George, currently residing in Stavanger, Norway brings us Russian Spring Punch — vodka, lemon juice, creme de cassis, lightened with bubbles and topped with a blackberry — plus plenty of tempting variations.
—–
The Bourbon Kings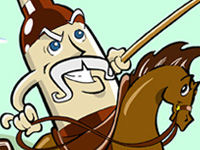 Our favorite new cocktail blogger, Dr. Bamboo brings us the Bourbon Lancer — those of you who find the Prince of Wales too sweet may prefer this simpler blend of bourbon, bitters, sugar and Champagne that shifts shape depending on your chosen mash. And who doesn't love that mustachioed jug astride his valiant steed?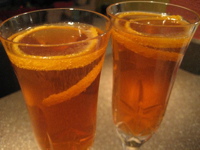 Over at My Bar, Your Bar, Matt gives us a drink named after the most famous hotel in his hometown of Louisville, KY. The Seelbach employs two types of bitters — and plenty of 'em! — in a tag-team with bourbon and Cointreau, playing a little rough with the sparkling wine. Over on eG, Lancaster Mike says he never enjoyed champagne cocktails until he tasted this one.
Also on eGullet, Ktepi is thinking ahead to summertime with the Roasted Lemonade Champagne Cocktail — a very gentlemanly (or perhaps even ladylike) mixture of bourbon, bubbly, and both fresh and cooked lemons. Oooh, darlin': I can't wait for a hot day on the patio to try this one out.
—–
Brandy (and her belle-soeur, Cognac)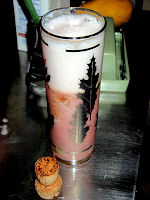 eGullet sprits-and-cocktails forum host (and our Bernal Heights neighbor) Erik gets all fancy on us with the aptly named Rosey Fizz, a highball made with apple brandy, blood-orange juice, egg white, rose Champagne, rosewater, and homemade rose-hip granita. Having tasted Eric's cocktail prowess first-hand, we're sure this labor-intensive cocktail is worth the effort.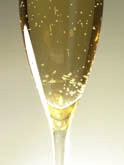 Up north in London ON, Darcy at The Art of Drink offers up the Laissez' Affair, a study in elegant simplicity. Despite the brevity of the ingredient list — Champagne plus a titch of vanilla cognac (not, we are at pains to reinforce, "some cheap vanilla vodka or vanilla liqueur") — this tipple proves itself anything but plain.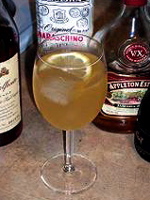 Ah, here's the guest of honor, making a fashionably late appearance! Paul from The Cocktail Chronicles offers fair warning about bubbly drinks' sucker punch, then explores his library for a less-dangerous variant. He brings home the Crimean Cup, which blends brandy and Champagne with maraschino, rum, orgeat, lemon juice, and soda water in a goblet, over ice. It must be springtime in Seattle!
Another eG county heard from: Andy (ThirtyOneKnots) chimes in with a recipe from Dr. Cocktail (aka Ted Haigh), known as the Soyer au Champagne. This silky "Champagne float" garnishes a mixture of equal parts brandy, Maraschino liqueur, curacao, and pineapple juice with — wait for it — a tablespoon of vanilla ice cream. How very, very naughty!
Also in this category: Prince of Wales
—
Secret Herbs and Spices
Wherin our faithful hero encounters all manner of roots and herbals….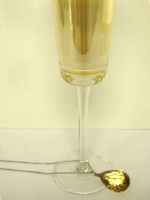 The lone entrant featuring a home-brewed root infusion mixed with sparkling wine, Burdock Bubbly is Intoxicated Zodiac's Taurus-inspired cocktail. Gwen tells us that burdock has "a woodsy, earthy flavor" and that "in Britain the burdock/dandelion cordial is a best seller!" It's also known as a blood purifier — a wise idea if you're drink testing.
Over on eGullet, BostonApothecary pays tribute to Duke with a little number called Creole Love Call, jazzing up "a very sincere Champagne" with creole shrub, pimento dram and Peychaud's bitters.
Also in this category: The lovely and talented Miss Chanteuse and the Rosemary Five.
—-
Classics and their Kin
When I proposed this topic, I thought we'd see a lot of takes on The Big Four: Mimosa, Kir Royal, French 75, and the original Champagne Cocktail — drinks that come to mind when mixing sparkling wines with other ingredients. But, in reality, the number of original creations and uncommon concoctions far outweighed the biggies.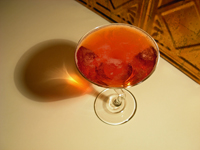 Susan at The Well-Seasoned Cook ponders the appearance of the original Champagne Cocktail in the cinema classic Casablanca, then tweaks it ever-so-gently with a shot of Campari — a bitter+sweet drink for a bittersweet love story.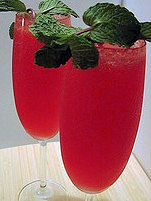 Over at A Dash of Bitters, Michael combines gin, cardamom syrup, and plum puree into a cordial-like base for the Plum Royale, a drink that nods at the French 75 and adds a Kir-like blush. (The delicious-sounding cardamom syrup makes this one a candidate for the Herbs & Spices category, too. You see how hard this hosting gig can be??)
Katie Loeb (she of the eGullet Limoncello and Spicy Sangria that have earned their place in the MWD permanent collection) tarts up the classic brunch beverage. Adding red grapefruit-flavored vodka and lime juice to the usual OJ and fizz, she clevery dubs her remix the M-mosa.
Mercifully sparing us from a complete classic shut-out, the ladies of Liquor and Libations in Vancouver BC instruct us in the history — and proper spirits — of a French 75. I love the idea that it's "like an extra special, extra tasty G&T, with champagne replacing the tonic"! (And a special shout-out to these first-time MxMo participants.)
Also in this category: The Ramblin' Rose and the Poire Royale.
—–
What a lovely turnout! Thank you all for making this edition of MxMo such fun to host.