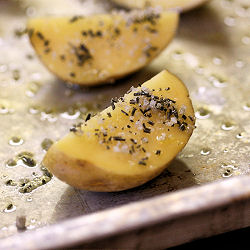 All the cool kids are taking blog-sabbaticals this summer. Oh, how I wish that were the reason why we've been so blissfully post-free. Truth is, we've got plenty of inspiration, and we're cooking up a storm. We've had a week of meals lined up, shopped for, and planned to a fare-thee-well. But – sadly, right in the heart of the best-eating time of the year – we're more than a little off our game.
First there were the gnocchi.
As any sane cook will tell you, gnocchi are fraught with peril, even in the best of circumstances. Attempting to devise gnocchi that are somehow simultaneously delicious, gorgeous, and interesting enough to write about adds a serious degree of difficulty. While I am sure there will be plenty of entries in this month's exciting episode of Hay Hay, It's Donna Day, my Day-Glo fuschia beet-ricotta gnocchi will not be among them. Fussy, dumpy, and not terribly tasty… it's not too strong to call this an outright failure.
Then there was the antipasto salad. I think it's safe to say that Nancy Silverton is decidedly not targeting my demographic with her latest book, A Twist of the Wrist. It's a cool, heartfelt attempt at legitimizing the semi-homemade trend, streamlining weeknight dinners with the judicious application of store-bought gourmet goods. Like tapenade.
Oh, the tapenade.
Trust me, kids, it was all I could do to fight the urge to just buy some good olives and slap them in the Cuisinart with a splash of olive oil and a spoonful of capers – completely eliminating the book's time-saving charm. So I didn't; I bought a nice-looking bottle of chunky green-olive paste and added it to my pile of lettuce, salami, and herbs.
You know where this is going, eh?
Salty, metallic and otherwise irredeemably bad, the store-bought 'tapenade' overpowered all of the other ingredients – and I'd only used half what the recipe called for. I don't think we actually tossed it all down the drain, but it was a near thing; there was a lot of picking good salami and cheese out of the hyper-salinated salad.
Returning to familiar territory, we pulled out a tried-and-true recipe for Thai shrimp-cakes from Dancing Shrimp. Our makrut lime tree is finally bearing fruit, and these savory morsels seemed the perfect way to showcase our harvest for Andrea's "Grow Your Own" roundup. As I pulled all of the ingredients out of the fridge, I caught a whiff of the 'fresh' shrimp we'd bought at Whole Foods: It had spoiled overnight. (That will teach me to sleep in and skip the market. This would not happen at Shogun.)
Feeling defeated, we cannibalized a meal we'd planned to eat later in the week: Rib-eye steak and rosemary salt-roasted potatoes. It was fine, I guess, although we both picked through the definitely-not-Prather-quality meat and the too-sweet supermarket spuds.
Last night, in need of a sure thing, we hoofed it all the way down the peninsula to our favorite Mexican restaurant. We've eaten there for more than 10 years now, always bragging that we'd only ever had one bad meal there. Well, now we can say we've had two: Unmelted cheese, blown-out rice, tortillas heated to the point of hand-scorching rubberiness, and a squeaky-dry chicken tostada. At least the margaritas were good.
With the exception of a lovely dinner at Oliveto on Monday, I can honestly say that there were exactly two meals over the last week that I truly enjoyed: a fluffy Denver omelette I made from piperade leftovers, and a bowl of Rancho Gordo's giant lima beans simmered with onions that had been sautéed in bacon drippings.
Amid an overwhelming collection of intricate disasters and well-planned flops, these simple, graceful plates stand out as a steady reminder: Sometimes even the best-laid plans are no match for kitchen kismet, and sometimes less is more.
Denver Omelette
3 large eggs
1 T half-and-half, or cream
2 T butter
1/2 cup diced onion
1/2 cup diced bell pepper
1/2 cup small ham cubes
1/4 to 1/2 cup shredded cheddar cheese
In an 8-inch skillet, melt the butter over medium heat. Saute the onions until they just begin to soften. Add the pepper, and saute until vegetables are well softened but not browned. Add the ham cubes and saute until heated through. Remove sauteed ingredients to a plate and keep warm. Return the skillet to the fire.
In a medium bowl, scramble the eggs and the half-and-half until well blended and a little frothy. Add the beaten eggs to the hot pan, and let sit for 15 seconds; stir gently with a wooden spatula, pulling the curds toward the center of the pan and encouraging liquid to fill in the gaps. When a little liquid remains, use the spatula to gently even out the thickness of the curds in the pan, and reduce the heat to low. Spread the cheese all over the soft-set eggs, then evenly top one side of the omelette with the filling. Cover the pan and let sit for a few minutes until cheese melts. (If the underside of the egg browns too much, turn off the heat entirely; the pan will be hot enough if you leave the lid on. Unlike a French omelet, you do want some color and crispness, but you don't want leathery eggs.)
When cheese is melted, fold the unfilled side of the omelette over the filling. Slide onto a warmed plate, glazing the top with a bit more butter, if desired.
Serves 2 with salad as a light supper, or a very satisfying breakfast for one hungry soul.