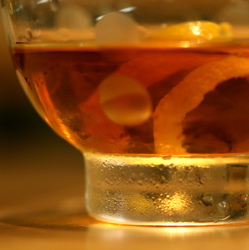 Not too long ago, we got together with our neighbors Erik and Mrs. Flannstad for an absinthe tasting. We cracked open our new bottle of Lucid, the first true absinthe to be sold legally in the United States in nearly 100 years. Our guests generously offered to share tastes of two absinthes that they had brought back across the pond: Jade 1901 and Fougerolles.
As we dripped cold water over sugar cubes and watched the clear green fluid louche, I was struck by the historic nature of our ceremony: It is no small thing to be a party to the greatest snake-oil scam of the last three centuries.
Like many of today's cordials, absinthe was first promoted as a medicinal elixir. The benefits supposedly arose from the combination of anise, fennel, and grande wormwood, and it was given to French troops as a fever preventative. When the drink became spectacularly popular in France by the late 1800s, it captured the palates and imaginations of several well-known artists, and the allure of the liquor shifted shape. Absinthe, no longer medicine, acquired a reputation as a mind-altering hallucinogen. By 1915 it was considered so dangerous that it was banned in several countries, including France and the United States.
Alas, recent studies have proven that absinthe does not cause hallucinations. I wasn't able to find anything written on its efficacy as a fever remedy, but I don't anticipate absinthe putting aspirin or ibuprofen manufacturers out of business any time soon. Nevertheless, the legend, mystique, and flim-flam continues, thoroughly documented by the Wormwood Society and La Fee Verte Absinthe House. The story of a humble patent medicine that grew into a potion so potent as to be banned on two continents is one that would bring a tear to any huckster's eye.
Happily, absinthe also makes a pleasant drink, and we had fun tasting and comparing the three examples. Of the three, the Lucid was the sweetest and least complex. Despite bringing up the rear in our taste test, Lucid has two strong points in its favor. First, it strikes far closer to absinthe's correct flavor profile than any of the current substitutes. Second, its modest price and local availability means that absinthe once again becomes fair game for mixological experimentation.
Sources tell us that many cocktails made with pastis (a la Ricard or Pernod) were originally made with — you guessed it — absinthe in the days before the ban. One such recipe, the venerable New Orleans staple known as the Sazerac, looks on paper like a shot of whiskey with some incidental flavorings. But a well-made Sazerac honors its pedigree: One of the oldest of all cocktails, it's a parade of enchanting flavors that starts with lemon and ends with an herbal snap. Make it with the original American whiskey — rye — in place of that johnny-come-lately bourbon, and you've got a taste of cocktail history in an old-fashioned glass.
Vieux Sazerac
1/2 tsp absinthe
1/2 tsp simple syrup
2 dashes Peychaud bitters
2 oz rye whiskey
lemon twist, for garnish
Add the absinthe to a well-chilled old-fashioned glass, and roll it around to coat the inside of the glass. Pour out the excess, leaving a small puddle in the bottom of the glass. Add syrup, bitters, and rye; stir, and garnish with lemon twist.
Note: As this drink lacks ice, think "extra frosty" when chilling the glassware.