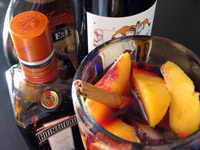 Flashback: Just as spring ended, we garnished this sangria with pears and citrus for our garden-warming party. It seems only fitting that we bid adíos to summer with a peachy version.
Both the syrup and the fruit need to be made up ahead of time, so this is a perfect recipe to start today with an eye toward the long holiday weekend.
This recipe is based on Katie Loeb's version.

Spicy Sangria
750ml bottle of neutral red wine
4oz orange liqueur, preferrably Cointreau
4oz brandy — we use E&J XO
4oz spiced simple syrup (recipe follows)
chopped fruit macerated in additional brandy and/or liqueur
club soda or sparkling water
Make the simple syrup the night before you plan to drink the sangria. If using hardy fruit — such as citrus, apples or pears — macerate the fruit overnight as well; summer fruits like peaches and berries only need a few minutes' soaking time or they'll turn to mush.The morning you plan to serve the sangria, mix the alcohols and syrup, and adjust for sweetness and booziness. Chill thoroughly until ready to serve.
Place LOTS of ice in a glass, and add some of the boozy fruit. Nearly fill the glass with sangria — leaving about an inch of head room — and then top with a glug of club soda.
Spiced Simple Syrup
2-3 sticks of Mexican canela (or 1 stick regular cinnamon)
4 full pieces star anise
1-1/2 tsp. cloves
1-1/2 tsp. black peppercorns
1/2 tsp. red chile flakes
one pint of 1:1 simple syrup
Boil the spices in the syrup for 5 minutes, then cool overnight. Strain, then use as desired.