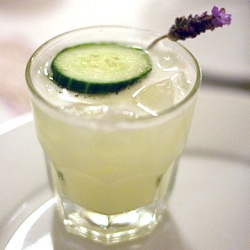 We'd planned take a break from Drink of the Week while we're vacationing down in Southern California with family. (After all, it's not like we haven't had plenty to drink lately). But since we already had this recipe planned for our next DOTW installment when Deb at Everyday Food invited us to participate in today's Cuke & Zuke Fest, how could we resist jumping online to share it with you?
We had our share of interesting Charlotte Voisey cocktails during the Spirited Dinner at Restaurant August, but her Cucumber and Lavender Sour was our table's favorite drink by far. It requires a little up-front planning (or shopping), but beyond that it's simply a straight-up gin sour with a few extra dashes of flavor.
Along with the usual gin botanicals like juniper and coriander, Hendrick's uses cucumber and rose petals as aromatics in their distillation process, so it's not surprising that adding cucumbers and floral notes in this drink makes for a delicious end result.
Cucumber and Lavender Sour
- Charlotte Voisey
1-1/2 oz Hendrick's gin
1/4 oz Domaine de Canton ginger liqueur
3/4 oz lavender syrup (see below)
1/2 oz lemon juice
1/2 egg white
2 slices English cucumber (plus 1 for garnish)
2 dashes lavender bitters*
fresh lavender, for garnish
In a mixing glass, muddle 2 cucumber slices with lavender syrup. Add the remaining ingredients, and shake well with ice. Strain into an ice-filled rocks glass, and garnish with a cucumber slice and sprig of lavender.
Lavender syrup
1/2 cup water
1/2 cup granulated sugar
2T dried lavender flowers
Heat sugar and water together until just dissolved. Remove pan from heat and add lavender. Let sit until cool. Strain out the lavender and filter, if desired. (Alternately, Sonoma Syrup and Monin make commercial versions; the latter has a purple tint.)
* Charlotte uses lavender bitters created by a London friend. If you don't feel up to concocting your own, Fee Brothers' grapefruit bitters are a complementary alternative.