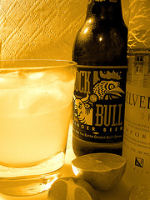 Wanting a little refreshment before dinner, I gave Cameron a list of four or five ginger-beer-based cocktails, and asked him to pick one that sounded appealing. I'm glad I left the decision up to him, because I almost certainly would have chosen one of the drinks that marries a brown liquor with this spicy soda. Which would have been a shame, because the Moscow Mule is a lovely cocktail, a spicy-tart variation on a gin and tonic, but without the bitter aftertaste.
Usually, the drinks dreamed up by PR flacks are gawdawful messes. But the story of the Moscow Mule shows that — just like a million monkeys banging away on a million Smith-Coronas might eventually produce Shakespeare — sometimes these misbegotten concoctions turn out just fine.
A quick Google on "Moscow Mule" turns up a few variations on the story of the drink's genesis, but most sources agree that representatives of Smirnoff vodka and Cock n' Bull ginger beer put their heads together and came up with a way to market their slow-moving beverages. Someone designed a cute copper mug to serve it in, and they quickly made their way into mixological history.
As you might expect, much depends on the quality of your ginger beer, so steer clear of the Canada Dry and seek out something with a bit of bite, and not too much sweetness. Locally, our new friends down at City Beer sell Cock n' Bull's modern incarnation, and BevMo stocks a surprisingly wide selection of ginger brews.
Moscow Mule
2 ounces vodka
3 ounces good, spicy ginger beer
1 ounce fresh lime juice
Combine ingredients in an ice-filled old-fashioned glass (or, more traditionally, a copper mug). Garnish with a lime wedge.