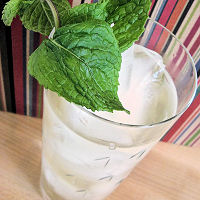 After reading yet another post extolling the virtues of making your own ginger beer, I decided to take the plunge. Aside from the tedious (but strangely relaxing) task of peeling and grating 2 pounds of fresh ginger, it's quite a simple operation.
Dale DeGroff's homemade ginger beer recipe — recommended by Robert at Explore the Pour — isn't very sweet at all: A mere 3/4 cup of sugar to 2 gallons water. If you want sweetness in your drink, it's simply a matter of adding simple syrup to taste. Starting with a barely-sweetened ale, you've got the flexibility to use liqueurs or flavored syrups without fear of a cloying end result.
Other than a prominent ginger taste, the largest difference between the commercial stuff and the homemade variety is a lack of fizz. I experimented with carbonating part of my batch by running it through a soda siphon; it worked, although perhaps a bit too well. The relatively dense liquid hung on to the CO2 bubbles better than plain water would, resulting in a thick-headed mess. Not wanting to waste any of my brew, I emptied the contents of the siphon into pint glasses, allowed the foam to subside, and funnelled the result into an empty bubbly bottle (which I capped with a spring-loaded Champagne saver). The end result: A lightly carbonated, highly gingery, very dry ginger beer.
Of course, there's no shortage of good cocktails that use ginger ale as a base: Moscow Mule, Headless Horseman, and Dark & Stormy, to name just three. But this week's entertaining schedule included a fair number of parents with a sharp eye on their little ones. You can't just whip up a strong cocktail under these sorts of circumstances (no matter how tempting it may appear to the bartender).
Riffing on Audrey Saunders' Gin-Gin Mule, an increasingly popular Moscow Mule variation, I combined my ginger beer with the usual gin, lime, and mint, but in a simpler, lighter arrangement. No muddling, less gin, less lime, and a little added fizz… a few variations and you've got breezy Mule alternative that's not the least bit watered down. It's a faintly boozy drink, a good option when entertaining guests who lack the cocktail gene, or when the weather's hot enough for multiple cold beverages around the barbecue. In short, it's a perfect Drink of the Week for summer's first long weekend.
Gin-Gin Cooler
1/2 oz simple syrup (mint or rosemary flavored, if possible)
1 to 1.5 oz dry gin
4 oz homemade ginger beer
juice of 1/4 to 1/2 lime
soda water
mint sprig
In a 12 oz highball glass filled with ice, combine the syrup, gin, ginger beer, and lime juice. Top with soda water to fill, and garnish with a mint sprig.
If you're using commercial ginger ale, be sure to pick a quality brand with plenty of bite. Skip the soda water and reduce or eliminate the syrup, depending on the sweetness of your mixer; the end result will be more along the lines of a Shady Grove. If you decide to make your own ginger beer, be forwarned that DeGroff's recipe yields a generous two gallons. It freezes well, however.