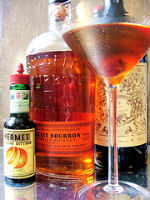 You can pick your friends—the saying goes—and you can pick your…um… poison, but you can't pick your family. Happily, I have been blessed many times over through both blood and marriage. And so, while this Drink of the Week post is inspired by Mixology Monday #9 (bitters), it is dedicated to my brother-in-law Matt, who introduced me to a delightfully civilized drink: The Manhattan.
I had always been suspicious of The Manhattan, put off by crappy bourbon, unpredictable proportions, and those nasty, nuclear pink, jarred maraschino cherries that people actually eat instead of sticking on top of car antennas, where they belong.
But one night during a holiday visit many years ago, Matt commandeered the cocktail shaker and went to work with sweet vermouth, Angostura bitters, and Wild Turkey. I think. I'm a little blurry on the precise brand of bourbon, probably because we knocked off most of a bottle of whatever it was over the course of a gregarious evening.
In any case, my prejudice melted, and if I never sought The Manhattan out, neither did I avoid its presence. Those awful cherries, though. Ugh. Not a chance.
The next stage in my journey came this fall, when Murray of the Zig Zag Cafe promised us that if we brought a bottle of Carpano Antica vermouth on our next trip to Seattle, we'd be rewarded. When Murray speaks on things of a spiritous nature, my friends, I listen. Bottle in hand, we wafted in out of the northern night to be greeted by a Manhattan made with Carpano Antica, Rittenhouse bonded rye, and Bitter Truth bitters. Magic.
Since then, I (heart) Manhattan. It's a drink that rewards customization with different ingredient styles and (carefully!) proportions. You'll find recipes that recommend anywhere from one-half to two ounces of vermouth for two ounces of bourbon or rye. These days, I feel like anything less than a 2:1 ratio tastes like a shot, not a cocktail, but as I have written before, I am pigheaded, uncultured, and have displayed questionable drink-ordering skills.
The recipe below produces a very smooth drink, and is doubly appropriate for this particular MxMo, as it contains two bitter ingredients: orange bitters and Carpano Antica. The Bulleit bourbon lends body without calling attention to itself, and the fruitiness of the orange bitters (of which the Hermes is a difficult-to-find but excellent example) balances the extra bite of the Carpano Antica, which you could replace with regular sweet vermouth for increased mellitude. If you need fruit, soak dried Bing cherries overnight in whatever suits your fancy. I used brandy and…POW! Drunken Cherries.
Cheers, Matt! (And happy 5th Anniversary to you and P…)


Old Manhattan
2 oz. Bulleit bourbon
1-1/4 oz. Carpano Antica vermouth
2 dashes Hermes orange bitters
Stir with ice. Strain into a cocktail glass and garnish with a Drunken Cherry.