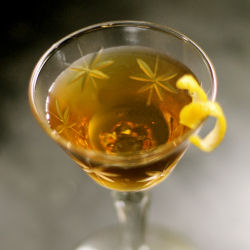 If you follow San Francisco's cocktail scene even half-heartedly, it'd have been hard to miss the news about Beretta, heir to the old Last Supper Club space on Valencia. Even before its much-anticipated opening, this spot was generating plenty of buzz — much of it due to a bartender roster that reads like a Who's Who of San Francisco mixologists.
Beretta's culinary pedigree isn't too shabby either, and our first dinner there was quite promising. A short list of risotto options — the one we tried, with porcini and Barbera, was homely but delicious — follows a litany of pizzas that could give Gialina or Pizzeria Delfina a run for their money with a few simple tweaks.
A dozen-plus antipasto options included delicious grilled asparagus served with olivata and soft-boiled egg quarters, and a spot-on plate of Monterey sardines in soar. Although portions are modest, this is definitely not dainty "small plates" food. They're just the thing if you like being able to order a starter without ruining your appetite, and at $5 a pop you can always order two if you're ravenous. Better still, they're the perfect size for snacking at the bar while sipping one of Beretta's well-crafted cocktails.
And yes, it's all locavore-friendly: The menu boasts of food that's "always fresh, seasonal, and sourced from local farmers". Word 'round my office water-cooler is Beretta's weekend brunch is a crowd-free glory all unto itself — and what better place to nurse a hangover?
Because, really, you might just be tempted overindulge when you see Beretta's lengthy cocktail menu. Unlike the truncated drink offerings at many restaurants, this list offers a little something for every palate, and all drinks are priced at a reasonable $9. Over the course of the evening, we sampled a fantastic Gin & It made with Vya sweet vermouth and Tanqueray 10, plus an eye-opening Air Mail and pleasantly brisk an Agricole Mule.

One other drink we tried — the Monte Carlo — bears more than a passing resemblance to an old favorite, the Oh Henry, minus the ginger ale. Lest a fruity liqueur trick you into thinking this is a tame tipple, remember that Benedictine is 86 proof… stiffer than some bourbons! So, I suggest you do as the Beretta barkeeps do and serve it in a dainty Nick-and-Nora glass.
It's not often we discover a worthy bourbon drink that's escaped our notice — we're great fans of America's brown liquor, and we've even been known to put it in our food. So it seems only fitting to share our discovery as part of the June edition of Mixology Monday: Bourbon, hosted by SeanMike at Scofflaw's Den.
Monte Carlo
1-1/2 oz bourbon or rye
1/2 oz Benedictine
2 dashes aromatic bitters
Stir with ice, strain into a small cocktail glass. Garnish with a twist of orange.
—–
A small sample of previous Drink of the Week entries featuring bourbon:
1/25/08: Horse's Neck with a Kick
10/12/07: Whiskey Sour
9/14/07: Fashionably Lillet
7/27/07: Mint Julep
7/6/07: Sazerac
11/10/06: Manhattan
8/18/06: Currier