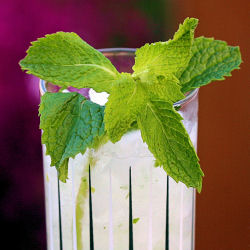 When I read Jeffrey Morgenthaler's recent post outlining his list of Dos and Donts of Mojitos, I found myself nodding in vigorous agreement. When I got to this entry, I broke into a wide grin:
"Do not order a mojito when the weather is below 70°F. This is almost as bad as ordering a Bloody Mary after the sun has gone down."
Hear, hear.
I can't tell you how many winter nights I've spent at the Zig Zag watching Murray Stenson painstakingly craft mojitos for some clueless clown. The phenomenon became so epidemic a few years ago that Cameron and I were moved to concoct an alternative, off-season rum drink for Murray to offer. (It's an amateurish thing called the Wonderland — as in "Walking in a Winter…" and Murray graciously humors us by keeping the recipe in the box behind the bar.)
It's hard to fault a mojito aficionado from defying the seasonal mandate at the Zig Zag, because when it comes to mojito-making, Murray's method is a sight to behold. Cameron likes to remark that Murray puts more love into a single cocktail than most restaurants put into a whole meal, and I am convinced that he was witnessing a mojito-muddling marathon for the first time when he coined that oh-so-true aphorism.
As Morgenthaler correctly cautions, a mojito is no drink to order when your fellow tipplers are three-deep at the bar. Even the most slap-dash mojito is a time-consuming order. But making 'Mojitos a la Murray' elevates the procedure to high art.
Murray starts out by cutting half a lime into quarters, placing the pieces in a pint glass with half a dozen mint leaves and simple syrup. Crushed ice is added, and muddling commences. Six more mint leaves join the party, along with another dose of syrup and more ice. More muddling. Another dose of mint — this time sans syrup — and still more muddling. Then the rum, and a purposeful stir while surveying the bar. Tasting for balance, he tinkers with his creation until he achieves the ideal balance of sweet, sour, and strength; it rarely needs much to bring it to perfection. Out of his pile of mint, he chooses one more perfect sprig, dusting it with a flurry of powdered sugar before placing it jauntily in the glass, and handing the drink over to the suitably awed customer.
Both Murray and Jeffrey adhere to the unstrained school of mojito mixology: "I leave the 'salad' in place," says Mr. Stenson. My muddling technique must be a bit weak; I haven't yet mastered the fine art of extracting sufficient mint flavor without creating a pulpy mess, even when using Murray's step-by-step directions and the prescribed copious amounts of greenery. So, as a compromise, I follow the 'Murray Method' right up to the end, but then strain the muddled mixture into an ice-filled cooler glass. A few small bits of mint find their way through the strainer, creating a pleasantly herb-flecked drink with plenty of punch.
Murray also dispenses with the traditional top-up of soda water; his masterful muddling provides the just the right opportunity for dilution. I like a bit of fizz, myself (as does Morgenthaler), but let your cocktail conscience be your guide on this point, as always.
Mojito
1/2 lime
1T simple syrup, or to taste
18 medium mint leaves, plus a sprig for garnish
2 oz silver rum
good-quality soda water (optional)
confectioners sugar (optional)
Cut the lime-half into quarters, and muddle in a 16-oz glass along with 6 medium mint leaves and 1/4 ounce (1-1/2 tsp) simple syrup. Add crushed ice to one quarter of the way up the glass. Add 6 more mint leaves and another 1/4 ounce simple syrup; muddle again. Add crushed ice to a level about 2/3 up the glass, plus remaining 6 mint leaves (no simple syrup this round); muddle yet again. Add the rum and stir until the glass begins to frost. Adjust to taste, then strain the chilled mixture into an ice-filled 12-ounce highball or cooler glass. Top up with a splash of soda water, if desired. Garnish with a sprig of mint, dusted with confectioners sugar, if desired.