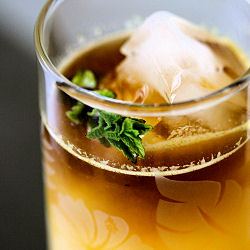 You may remember from last month's MxMo post that something like 17 recipes from our local bars and restaurants are included in Food & Wine Cocktails 2008 — a feat unmatched by any region's mixologists, including the much-larger contingent from New York City. Soon after the book hit the streets, a gaggle of Bay Area food bloggers were talking about how remarkably lucky we are to live in a region with so many talented bartenders. One thing led to another, and soon people were plotting an exhaustive tour of the featured establishments.
Now, anyone who's been party to a brilliant idea hatched in the midst of an alcohol-fueled afternoon knows what usually becomes of these grand plans: Nothing. As soon as the sober light of reality hits, you realize that getting a dozen-plus people to agree on schedules, venues, and pacing is just too much drama for a simple cocktail.
But obviously, you don't know Jen.
Our supremely organized friend sat down with her trusty spreadsheet in one hand and a copy of the cocktail compendium in the other and plotted out an agenda that takes us to a different F&W-mentioned bar each week of the summer. Because of the logistics of getting our mostly San Francisco-based crew to far-flung destinations like Napa or even the East Bay, Jen left some drinks off the formal agenda as an extra-credit exercise for completists to tackle at their leisure.
Circulating the schedule to a crew of cocktail-savvy bloggers and other social butterflies, Jen kept the schedule-jockeying to a minimum with one simple idea: "We'll be gathering here at the appointed time. Come if you can; we'll see you next week if you can't." Brilliant, no?
And by god, it seems to be working. A quick call to the bar a day or two before gives us reasonable assurance that they'll have any special ingredients on hand. People come early, leave late, wander in and out during the evening. A good time is had by all, and we manage to have a sociable drink or two before wandering off in various directions in search of supper.
And if the published cocktail at this week's destination turned out to be… well, perhaps we'll just say "seasonally inappropriate"? At least we had a wonderful time with some of our favorite blog-friends, enjoying some unseasonably warm weather in one of the coziest bars in The City. And hey, there's always next week.
I don't know about you, but when I've had a bad meal or any other below-scratch culinary experience, my natural instinct is to go for a do-over at a tried-and-true spot where we know we won't be disappointed. Looking over Jen's list, we realized that some of the far-flung omissions weren't so far-flung after all, at least to those of us blessed with a car and a FasTrak transponder. And, really, it doesn't take much of an excuse to get Cameron and me across the bay to Forbidden Island; the opportunity to taste a Fog Cutter made by the man whose license plate spells out the name of this Trader Vic tiki classic was more than sufficient.
Fog Cutter
- Martin Cate, Forbidden Island
From Food & Wine Cocktails 2008
1-1/2 oz white rum
1/2 oz gin
1/2 oz brandy
2 oz fresh orange juice
1 oz fresh lemon juice
1/2 oz orgeat
1/2 oz Amontillado sherry
Shake all ingredients except the sherry, and stain into an ice-filled highball glass. Carefully pour the sherry on top, and garnish with a sprig of mint.