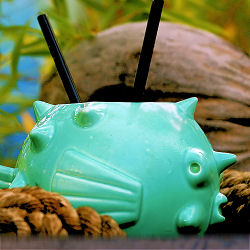 In his introduction to this month's Mixology Monday festivities, our genial host Rick describes how he came up with the idea for his theme of "Limit One":
"Exotic cocktail spots would often advertise their potent potions by limiting a customer to one per evening. It wasn't all gimmick, however; some recipes like the Zombie contained up to 5oz of 80-proof spirit! This phenomenon isn't limited to just tiki drinks; in fact, many locales even have laws that forbid a bartender to create a drink with more than a specified quantity of liquor."
Well, these sorts of potent potations may not necessarily be limited to tropical concoctions, but it's hard to avoid the correlation: If the bar name includes an island locale and/or the word "Trader" in its name, the chances are pretty good that you'll find some pretty strong stuff at the bottom of the menu.

Mercifully, many of these voluminous drinks come equipped with two or more straws, and most are expressly designed to be shared by gregarious group of cocktail hounds. Among this genre, the best known — and possibly the most confusingly varied — is the Scorpion Bowl. Back in the tiki heyday of the 1950s, it seemed like every bartender had his own scorpion style; some stuck with the arguably original rum and brandy; others went straight for the jugular with gin and/or vodka, and still others just threw together any random combination of high-proof booze in a bowl with sweet syrups, colorful liqueurs, and a tropical fruit garnish. With bartenders like these, it's a miracle that anyone survived to tell the tale, much less that the Scorpion Bowl is remembered — and reinvented — so fondly in the modern mixology world.
At Alameda's Forbidden Island, there's no shortage of high-octane cocktails. Yes, you'll even find a Scorpion Bowl: Show up on Sundays, and you can share one with your friends for a mere $15. Theirs is a potent elixir, and quite the show to boot: A flaming crouton simulates lava spewing forth from the crater of the bowl's volcano centerpiece. True to its origins, this scorpion's sting will surely make you — and, hopefully, three of your closest friends — forget all of your cares… and maybe your name.
But for my money, the tastier option is a Forbidden Island exclusive known as the Fugu for Two. Even though it's served in an adorable Munktiki fish-bowl, it's hard to imagine how anyone other than a tiki fanatic would think that a couples' cocktail served from the belly of a ceramic pufferfish is romantic. ('Til death do us part, anyone?) But the drink itself is as delicious as it is strong: Fruity and tropical, but not sickly sweet. It's as potent as its Scorpion sibiling, yes, but it's more than a little civilized.
For those of you who can't make it to Alameda, the Fugu tastes just as nice when served in a regular bowl — or even a pair of double Old Fashioned glasses, in a pinch — as it does when it's poured into a jumbo collectible mug. And unlike its aquatic namesake, you don't even need a special license to prepare this Fugu.
Fugu for Two
3 oz amber rum
1 oz vodka
1 oz apricot brandy
2 oz pineapple juice
1-1/2 oz fresh lemon juice
1 oz passion fruit syrup (preferably Monin)
1 oz orgeat
sparkling wine
Combine all ingredients in a blender with two cups of cracked ice and pulse twice, very quickly. Pour into a tall bowl. and add more cracked ice to fill. Top with a float of sparkling wine, and serve with two straws.