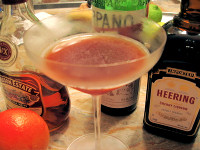 Editor's note: Our next guest behind the bar is our friend Dayne, who lives — and drinks — in Seattle with his wife, Wendy (of fondue mac & cheese fame).
When Anita asked for a guest drink submission, I was a bit stumped at first. Most of the more-interesting things we make come from recipes I've found online in the first place, so simply re-posting one of those seemed a little boring.
A while back, I'd read Paul's post over at The Cocktail Chronicles about the Blood & Sand, and followed that up by reading Gary Regan's article on the same drink. It seemed like an interesting drink, though a bit bizarre: I'd never been much of a Scotch drinker — that's slowly changing — and Scotch in a cocktail sounded especially strange.
Early last fall, I finally got around to acquiring some Cherry Heering with the intention of making Singapore Slings, but realized I finally had the missing ingredient for a proper Blood & Sand. Digging through old boxes of liquor that had come into our marriage from who-knows-where (I blame my best man, who has brought open-bottle remnants to more than one party), I found some Scotch, put everything together in the original equal-proportion recipe, and took a sip.
Ugghh. Awful. Beyond bad.
OK, so maybe it was the Scotch. I don't remember what brand was involved, but it made for a pretty horrendous cocktail. Could have been the vermouth too. Feeling that the drink deserve another try, I tested Ted Haigh's 4:4:3:3 variation, with no better luck.
I mentioned my unsuccessful experiments to Murray and Kacy down at the Zig Zig, and both of them said the same thing: "Use rum instead" — an interesting possibility. Somehow, I'd never quite gotten around to trying this variation. But earlier this week, I pulled out all the makings and gave them a shake. The result was a pleasantly mild drink with a tiki-ish flavor profile, but much less sweet than most tropical concoctions.
Since that evening, I've tried another Blood and Sand with some Famous Grouse — again a party remnant, though coincidentally the same brand that Paul used in his original post — and Carpano Punt e Mes vermouth. Much more successful, and almost certainly closer to what the cocktail was intended to taste like.
But the rum variation is worthy in its own right. Using a new base liquor usually calls for a new name; it's possible that someone's already christened this drink elsewhere, but I haven't been able to find it. So, I give you:
The Bloody Beach
3/4 oz. medium-bodied rum (I used Appleton V/X)
3/4 oz. cherry brandy (Cherry Heering or Cherry Marnier — don't use a clear eau-de-vie)
3/4 oz. sweet vermouth (I used Carpano Punt e Mes)
3/4 oz. fresh-squeezed orange juice, strained
Shake all ingredients vigorously with ice, and strain into a chilled cocktail glass.