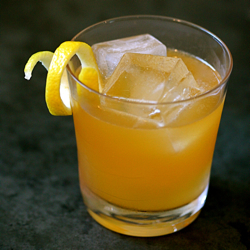 This week's stop on our Summer of Cocktails tour finally hit the bullseye: A solid cocktail in a superlative setting.
Bar Drake is the lesser-known of the Sir Francis Drake hotel's watering holes, but this chic spot is no second fiddle. It may lack the stunning skyline views of Harry Denton's Starlight Lounge — not to mention its swanky scene — but the lobby lounge offers an abundance of glamour, centered on a dramatically lit back-bar soaring almost to the top of the second-story mezzanine.
Bar Drake's sumptuous elegance surrounds a mix of couches and comfy chairs, settled around the lobby at clubby intervals. The service is impeccable, and the prices — $10 for most cocktails — are downright affordable by downtown standards. You might not expect that a hotel lobby bar would be the place to find an innovative cocktail menu, especially with some of San Francisco's trendiest clubs within stumbling distance. But with a drinks program led by master mixologist Jacques Bezuindenhout (better known for his work upstairs), you're in capable hands at Bar Drake.
Bearing more than a passing resemblance to the venerable Sidecar (also invented in a hotel bar), Bezuindenhout's Cocktails 2008 entry — the Tommy Gun — somehow captures the familiar taste of a drink you've enjoyed for ages. Despite not one but two ingredients borrowed from the pastry kitchen, it has none of the "gosh, aren't we clever" oddness of some modern creations. A pleasant balance of tart and sweet, spice and heat — it's a lovely, timeless drink.
My one quibble with Bar Drake: The bartender the night of our visit was rather haphazard with his measures, free-pouring his spirits and mixing multiple drinks at a time. Predictably, this led to fairly significant variation among the dozen or so Tommy Guns our group ordered throughout the evening. Looking around the room, spying drinks ranging from deep orange to palest yellow, you could tell at a glance that everyone's drink was quite different. Still, we all loved what we got; perhaps it's a testament to the strength of the recipe that it can be so broadly varied and still pleasant.
When properly made with a keen eye on the jigger, the Tommy Gun can more than hold its own among the year's best drinks.
Tommy Gun
- Jacques Bezuindenhout, Bar Drake
published in Food & Wine Cocktails 2008
2 thin slices fresh ginger
1 tsp apricot jam
1/4 oz fresh lemon juice
2 oz Irish whiskey
1/2 oz Grand Mariner
Thoroughly muddle the ginger with jam and lemon juice. Add ice, whiskey, and Grand Mariner; shake well with plenty of ice. Double-strain (through a Hawthorne strainer into a fine-mesh sieve) into an ice-filled rocks glass; garnish with lemon twist.