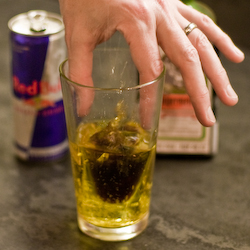 If there is a drink out there with fewer redeeming qualities than the Jäger Bomb, I can't imagine what it is. Seriously folks, this drink is a bad idea. It tastes like cough syrup, it's loaded with sugar, it packs enough caffeine to instantly add fifty points to your heart rate, and one of the main ingredients is made entirely of industrial chemicals.
And so, in honor of Stevi's Mixology Monday topic, Guilty Pleasures, I'm horrified to share with you that I'm completely, utterly addicted to the Trailer Trash Speedball, the Turbojäger, the Flying Hirsch, La Perla Negra: The Jäger Bomb.
I picked up this dirty little habit during my tour of duty as a guitar player for Seattle-area cover band Bad Alibi. For the first three months, I was fastidious about not drinking during performances. To tell the truth, for the first month, I was too panicked to even think about trying to play with a buzz on, which amused my band mates tremendously. They rarely got out of control, but every set was accompanied by beer and, to tell the truth, if our drummer wasn't stoned, he couldn't keep time at all.
Before the third and final set of the evening, one of the Alibi Boys would usually buy a round of Jäger Bombs. At first I declined to take part in the toxic trainwreck, but eventually I thought, "Don't knock it if you haven't tried it."
Like any destructive obsession, ritual is an important part of the Jäger Bomb. A shot of Jägermeister, an herbal liqueur, is served next to a pint glass containing half a can of Red Bull energy drink. You drop the shot glass into the pint glass and chug the mixture. Think of it as a millennial boilermaker.
As I climbed back on stage after my first ever Jäger Bomb, I immediately understood the appeal. Our third sets usually ran from midnight to 1:45am. Fridays weren't too bad, but we always played two nights in a row and the third set on Saturday could be tough. No matter how big the crowd was, by 12:30, the entire room was completely blasted. By 1am, the energy would start to fall off, and by 1:30, the only people upright were usually us and the bar staff.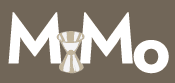 This is all by way of saying that if you run around playing high voltage rock and roll late at night, the Jäger Bomb starts to make a lot of sense. One produces a high, fine, jittery feeling, and two will definitely get your motor running. Drink three in quick succession and you might as well hand the bartender your credit card and have them call the cops now, just to save time.
After about a year and a half of playing 5 hours a night, 2 nights a week, 3 weekends a month in roadhouses anywhere from 45 minutes to 2 hours outside the city, all while holding down a full time corporate day job, my attitude towards rock godhead changed. The crowds were getting smaller, the drives were getting longer, and there is absolutely nothing fun about breaking down the stage at 2am. When I left the band, I mostly stopped drinking Jäger Bombs, as it's not the sort of thing that you order in polite company.
But every now and then I let the inner Neanderthal come out to play. I drop the shot into the glass, and fire back the mixture. As the tight rush crawls up my spine, I close my eyes and remember when the lights flashed, the fog billowed, and—with one foot on the monitor and a snarl on my lips—I delivered the mighty rock thunder to a sea of dancing hooligans.
Jäger Bomb
4oz of energy drink (roughly 1/2 can of Red Bull)
1 shot Jägermeister
Pour the energy drink in a pint glass. Drop the shot in the pint glass and drink the whole mess down. Rock on.