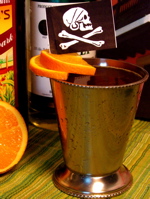 Matey, don' tell me ye din't knows today were Talk Like a Pirate Day?? Avast!
In honor of this fair occasion, Drink o' the Week be moving to Tuesday. We raise ye a fyne tipple from Sir Rrrrobert of Hess.
Jolly Roger
2 ounces dark rum
1 ounce orange juice
1/4 ounce Falernum (or simple syrup)
dash of bitters
Shake with ice, and strain into a cocktail glass. Garnish with an orange twist.