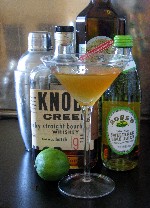 Another one from Murray — I promise next week we'll come up with something on our own, but this one's too good.
Currier
2 oz. medium-body bourbon
1/2 oz. Kummel (caraway-cumin liqueur)
1/4 oz. fresh lime juice
1/4 oz. Rose's Lime Juice
Shake with ice, then strain into a chilled cocktail glass.
Murray found the Currier in the old Playboy Bar Guide. He sent it on to Simon Difford, who says he likes it so well he's including it in the next Diffordsguide.