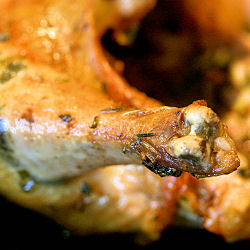 "A whole bird, slaughtered for the nourishment and pleasure of the entire family, is a conspicuous display — if not of serious wealth, then at least of comfort and contentment.
These days, it is also one of the few family meals that demands to be eaten at the table, rather than in front of the television. And, more important perhaps, it is one of the few dishes that is actually capable of getting disparate family members around that table without protest."
– Hugh Fearnley-Whittingstall,
The River Cottage Meat Book

.
KJ over at A Cracking Good Egg tagged me for the Book Wisdom meme:
1. Pick up the nearest [foodie] book.
2. Open to page 123.
3. Find the fifth sentence.
4. Post the next three sentences.
5. Tag 5 other people* and acknowledge who tagged you.

(* I don't mind being tagged, but I know other bloggers who feel it's an imposition. So, let me know in the comments if you want to play along.)
I'm not sure why it's taken me this long to share The River Cottage Meat Book with you. Even though I've had it close at hand since Christmas — it's always either on the coffee table or my nightstand — I am still wrapping my head around this volume. It's not that I don't know that I love it (because I most definitely do). And it's not that I haven't cooked out of it enough (because I definitely have). Nor is it because I don't know if it's worth your $40 investment (because it definitely is). And it's not even that I am worried you'll be unsettled by the beautifully photographed images and descriptions of ethically raised farm animals as they make their way from field to food (because I definitely was).
But despite my unequivocal endorsement — when I win the lottery, I'll buy a copy for every omnivore I know — I also feel like it might take me years to fully explore this 500+ page treatise of meaty pleasures. It's not the sort of lighthearted summer cookbook that inspires you to casually toss off a post and then go back to planning next week's menu. It's a thinking-man's cookbook that's unabashedly carnal and carnivorous, with plenty of thought-provoking commentary woven into its mouthwatering menus.
Don't get me wrong: It's no mere meat manifesto. Fearnley-Whittingstall somehow walks an ethical omnivore's path that's neither preachy nor overly sentimental. He's straightforward in that very English sort of way, unromantic and yet so obviously enthralled in what he is doing that you can't help but wish for your own bucolic farm on the rolling hills of West Dorset (picturesque stone house included). And although the Pollan-esque prose on carnivore ethics is what sets The River Cottage Meat Book apart most directly from most any other cookbook, it's far from the only reason for owning it.
The book is chock full of useful information about how to purchase meat, even when a supermarket is your only resource. There's an entire summary chapter devoted to meat thrift — an idea that Fearnley-Whittingstall takes pains to explain has nothing to do with being miserly, despite the obvious frugality. In between, the author shares his vast knowledge on the cuts of meat available from each of the major species, as well as offering up weighty chapters on each sort of cooking: roasting, slow cooking, fast cooking, barbecuing (by which he means grilling), and preserving. From the humblest cottage pie to the most elaborate holiday feast, the recipes are so engaging that you'll find yourself plotting your next meal around them before you've reached the bottom of the page.
Now, you wouldn't think that a simple roast chicken would tolerate much variation from the usual preparation: Season it, roast it, rest it, carve it. But it's the little things that set the River Cottage method apart. First, the amount of butter used is quite frankly astounding, but once you taste the end result you'll be happy you followed directions. The unorthodox technique — opening the body cavity wide; making multiple temperature adjustments; dousing the roasted meat in the buttery drippings — yields a moist bird with shatteringly crunchy skin, despite a relatively brief cooking time. It's practically the antithesis of the widely lauded Zuni Cafe method, but the end result is equally eye-opening.
—
When I write about a dish I've made from a published source, I usually rewrite the recipe in my own words. (Listing a single recipe verbatim is almost certainly within the bounds of fair use, but as a professional writer I'm hypersensitive to issues of authorship. Call me wacky.) But this time, I'm giving you the real McCoy. Not so much because I want you to make this roast chicken — although I suspect it would make a nice change from your usual method, as it was for us — but because I want you to understand the author's gift of turning even this simple weekend classic into an exercise in clarity, poetry, and deliciousness.
Herb Roast Chicken
- excerpted from The River Cottage Meat Book
1 small but plump roasting chicken weighing about 3 to 4 pounds
7 tablespoons soft butter
generous handfuls of fresh herbs, roughly chopped
1 garlic clove, crushed
1/2 glass of white wine
salt and freshly ground black pepper
Take off any string or elastic trussing from the chicken, place the bird in a roasting pan, and spread out its legs from the body. Enlarge the opening of the cavity with your fingers, so hot air can circulate inside the bird. It will cook quicker like that.
Put the butter in a bowl, throw in the roughly chopped herbs and the garlic, and season well with salt and pepper. Mix together with your fingers, then smear all over the chicken, inside and out. (Note from Anita: I also gently loosen the skin and spread some butter directly onto the meat. Yum.)
Place in the center of a hot oven (400F) and leave for 20 minutes (phase 1). Then baste the chicken [with the drippings], turn the oven down to 350F, pour the wine into the pan (not over the bird), and roast the bird for another 30 to 40 minutes (phase 2), depending on its size. Open the oven door, turn the oven off, and leave the bird for 15 to 20 minutes (phase 3). This is usually enough time to roast a small chicken through without burning the skin (the reason I prefer small chickens for roasting.) For a bigger bird, you will have to make the necessary adjustments, adding a few minutes to each phase. You may also wish to protect the bird's skin with buttered foil for, say, the first 20 minutes of phase 2. A good test for doneness is to pierce that part of the bird where the thigh joins the breast; the juices released should run clear.
Forget about gravy. Carve the bird in the pan, as coarsely and crudely as you like (no wafer-thin breast slices, please), letting the pieces fall into the buttery pan juices and letting the fresh juices from carving mingle with the rest. Then take the pan to the table and pass it round your family or guests in the pecking order of your choosing, so they can pull out the bits they fancy. Pass it round a second time, to help redress grievances and encourage the further and fairer distribution of juices.
Accompaniments? Roast potatoes would be de trop. A green vegetable would probably go unnoticed. Some good bread to mop up the juices will be appreciated, while a leafy salad, produced only after your guests have demolished the chicken, might assuage a few guilty consciences.
The discover of the roasting pan, a day or so later in a cool larder, is a joy you may not wish to share. Plundered the jellied juices, congealed bits of skin, and crusty meat tatters that cling to the carcass before you quietly make the rest, along with the giblets, into stock.