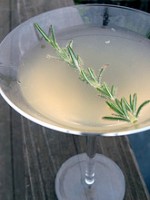 I've confessed, repeatedly, to my tinkering tendencies. I never met a recipe that I couldn't futz into an unrecognizable state. Now, it seems, my little problem is taking on a life of its own: I can't even drink nice cocktails at perfectly respectable establishments without wondering just what might help make them a wee bit better.
This whole sorry tale started out a few months ago with a dinner at Perbacco, SF's ultra-popular downtown ristorante. True to their Italian niche, the Perbacco bar menu features a number of cocktails that feel like a hip bartender's fantasy of la dolce vita: a bit of Carpano Antica here, a splash of Prosecco there, a titch of amaro, and plenty of sassy citrus for everyone! The drink that caught my eye on our first visit — and held my fickle gaze on a return trip — is a pretty little thing called the Rosmarino: Grey Goose vodka, lemon juice, rosemary simple syrup, and Clear Creek apple brandy; shaken, up, rosemary garnish. As delicious as it was, the apple flavor seemed a little misplaced, and the rosemary notes a tad thin (despite the not-terribly appetizing bits of muddled herbage floating around).
Not long after this, I tasted another citrusy drink on the menu at Bemelmans Bar on our NYC trip. Christened La Cinque (that's "the five" in Italian for you non-jetsetters), the menu listed pear vodka, moscato d'Asti, fresh lime, simple syrup, and Angostura bitters. Surely, it was a lovely combination, although the syrup combined with the sweet moscato to take the sugar hit right over the top.
I'd made a batch of rosemary syrup a couple weeks back — steeping a few sprigs of fresh rosemary in a warm batch of 1:1 simple syrup — in an effort to figure out precisely what was needed to fine-tune the Rosmarino to my liking. But time got away from me, and the jar of syrup ended up in the freezer. So when the time came to try to replicate La Cinque at home, I decided to combine these two Italian-inspired recipes into a single cocktail. It took a few tries to get the balance right; you'll want to tinker with the syrup levels depending on the dryness of your bubbly. Using a bone-dry California sparkler, we needed the full 1/2 ounce; if you opt for a Prosecco or other off-dry option, you'll likely need the lesser amount… unless you like your drinks on the sweet side.
The Rosemary Five
– adapted from La Cinque, Bemelmans Bar (NYC) and Rosmarino, Perbacco (SF)
1 oz. pear vodka or pear eau de vie (such as Absolut Pears or Clear Creek Williams Pear)
1/2 oz. fresh lime juice
1/4 to 1/2 oz. rosemary simple syrup
3 dashes Angostura bitters
dry sparkling wine
Shake the vodka with the lime juice and syrup in a cocktail shaker with ice. Strain into a 6-ounce cocktail glass, and top with sparkling wine, to fill. Garnish with a sprig of fresh rosemary.
—–
A gentle reminder from your host and hostess: You've now just over a week to break out the bubbly and show us your best Champagne cocktails for MxMo14. In the meantime, we'll be posting a few other sparklies we've collected over the last couple of months… all in the name of "research", dontcha know?