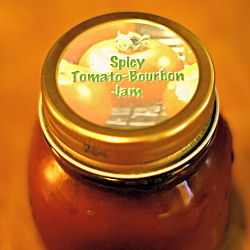 Making your own preserves may not exactly be the world's simplest kitchen task. But if you limit yourself to a relatively small batch, and pick the right recipe — preferably one that avoids the canning process altogether — it can be a lot of fun. A lot more enjoyable than say, the back-breaking labor and knuckle-biting stress of processing 100 pounds of San Marzano tomatoes. (Details on that soon… promise.)
Tomato jam may seem like an odd beast, but it's really not too far removed from ketchup. My favorite use for this spicy-savory preserve is spread liberally onto good Acme white bread, topped with Fatted Calf bacon and a wedge of Will's avocado — a sort of post-summer BLT substitute. (We served tea-sized versions of these exact sandwiches at our housewarming party, and they disappeared faster than I could assemble them.) The jam also makes a glorious glaze for meatloaf, a dipping sauce for empanadas… really, the possibilities seem endless.
If you want to simplify even further, omit the seeding and straining. It won't hurt the flavor of the final product, and it shaves another 15 or 20 minutes off your prep. Myself, I prefer the seedless version. But then, I am all about gilding the lily.
Need more bright ideas for preserving summer's veggie bounty? Over at The Passionate Cook, Johanna's hosting this month's edition of "Waiter, there's something in my…. [Savoury Preserves]". Check back here in a few days for a link to the roundup in the comments.
Spicy Tomato-Bourbon Jam
3/4 cup sugar
3/4 cup bourbon
3/4 cup cider vinegar
3 pounds tomatoes (preferably dry farmed)
1 tsp black peppercorns
8 whole allspice berries
8 whole cloves
1 tsp red-pepper flakes
1/2 tsp mustard seeds
1/2 tsp whole cumin seeds
Combine the vinegar, sugar, and bourbon in a glass or ceramic bowl. Stir to dissolve sugar, then set aside.
Prepare an ice-bath. Stem the tomatoes, but do not score them or remove their cores. Working in batches, blanch the tomatoes in boiling water until their skins start to split — a step beyond what you'd normally do if you wanted the tomatoes to stay firm. The timing will depend on each tomato's size and ripeness, so keep tongs or a slotted spoon handy to check them regularly. As soon as each tomato splits, remove it and plunge into ice water. Peel off tomato skins and discard.
Make a spice sachet by placing all of the spices in the center of a square of cheesecloth and tying into a bundle with a piece of kitchen string.
Set a wide-mesh strainer over a medium bowl. Pull open each tomato gently, and use your fingers to remove the seeds and seed jelly from each pocket, letting them fall into the strainer. Place the seeded tomato pulp onto a cutting board set over a rimmed cookie sheet.
When all tomatoes are seeded, rough-chop them and place them in a large saucepan along with any juices from the cutting board. Add the vinegar-sugar-bourbon mixture and the spice sachet, and bring to a boil. Do not leave unattended, as the mixture will greatly expand as it comes to a boil.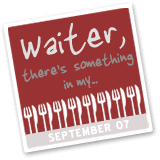 Using a spatula or wooden spoon, push the liquid surrounding the seeds through the strainer as much as possible. (This is where much of the flavor hides, so don't stint here.) When you're left with a dryish mass of seeds, discard them and add the liquid in the bowl to the saucepan, along with any puree on the underside of the strainer.
Reduce the heat to medium and, stirring occasionally, cook the tomato mixture 45 minutes or until it reaches a jammy consistency. Discard spice bag and divide tomato jam among sterilized jars or transfer to a container with tight-fitting lid. Let cool on countertop, then refrigerate until ready to use.
Note: Because this jam is not processed for storage, it must remain refrigerated. It will keep for about a month, provided you use a clean spoon every time.