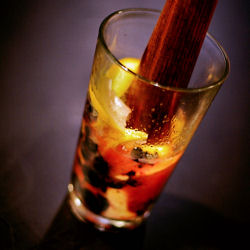 H. Joseph Ehrmann is a busy guy. He runs a full-service cocktail catering company, maintains a successful spirits consultancy, serves as a brand ambassador for Square One organic vodka, and promotes Green & Tonic to help bar owners adopt environmental improvements.
As if he weren't busy enough, H. is also one of the panelists this year at Tales of the Cocktail, co-presenting a session about green bars and seasonal cocktails — hence my interest in tracking him down. But first and foremost, he's the proprietor of Mission District stalwart Elixir, San Francisco's second-oldest saloon.
If you've walked by Elixir's vintage facade on the corner of Guerrero and 16th streets, you might have mistaken it for just another neighborhood bar. And you wouldn't be wrong, really: The local crew are all there, complete with a gaggle of beer-and-a-shot mooks shooting darts, and docile dog welcoming patrons at the door. But scratch the surface of this time-worn tavern and you'll find a few surprises.
First, that beer: As likely as not, it's local, organic, or at least sustainably produced. There's always at least one all-organic cocktail on the Elixir menu, and often a fruit-based seasonal special as well. And the bar itself was actually the first watering hole certified as a green business by the City of San Francisco, which monitors Elixir's energy usage, recycling and composting efforts, and a host of other sustainability criteria.
I caught up with H. — nobody's called him Harold since high school — at one of the Mixology 101 classes he leads at a chain of Peninsula-area athletic clubs. (They're offered as a membership perk, although civilians are quite welcome.) Along with an enthusiastic gaggle of newbie bar-enthusiasts, I stirred up a space-age martini, muddled a mojito, shook up an all-organic Margarita, and learned how to flame an orange peel to garnish a classic Manhattan.
The last drink of the night, the punnily named Country Thyme, introduced our budding mixologists to fresh-produce cocktails. Amusingly, I'd actually attempted to order this very drink the previous night on a trip to Elixir, only to find there were no berries on the premises. (H. laughingly explained he'd hijacked the bar's stash for a catering gig, and absentmindedly forgot to replace them.) The drink's vibrant hue and patio-perfect looks make it a crowd pleaser; H says as soon as the first one makes its way across the room, everyone's bellying up to the bar asking for their own.
If all this talk of sustainable, market-fresh ingredients is making you thirsty, a trip to Elixir might be in order. And there's no time like the present: Next week, H. plans to roll out his newest seasonal cocktail list, full of plenty of mid-spring treats from the farmers market.
It's a little early yet for blueberries, but if you're looking for a 100%-organic cocktail to celebrate Earth Day, there aren't a ton of fresh-fruit options at this time of year. My preference here would be frozen Northwest blueberries, a better option than the flavorless South American imports. In places where organic strawberries are already available, consider that substitution; you'll lose the magenta color, unfortunately.
Country Thyme
- courtesy H. Joseph Ehrmann, Elixir
1/3 cup organic blueberries
1 organic lemon
1/2 oz organic agave syrup (or 3/4 oz simple syrup)
1.5 oz Square One vodka
2 sprigs organic thyme
Muddle the blueberries in the bottom of a mixing glass. Cut the lemon into chunks — about 8 pieces — and muddle in the glass with the berries. Add the agave syrup and the vodka, and shake vigorously.
Spank one sprig of thyme, place it upright in a highball glass, and fill the glass to the rim with ice. Strain the shaken mixture into the glass, and garnish with the remaining sprig of thyme and a straw.
—
PS: Stay tuned to the Tales Blog for my preview of H.'s session, The Green Seasonal Bar.