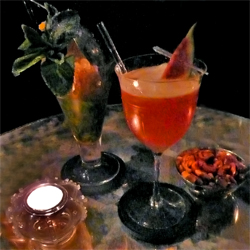 When you go to London, if you're at all interested in the mixological arts, I recommend you bring an ample supply of cash, a large bottle of milk thistle, and a suitcase full of bubble wrap. Dear reader, they have so many wonders across the Pond that we only dream of Stateside.
First among these treasures is a plethora of eye-poppingly gorgeous (not to say purse-poppingly pricey) cocktail establishments. The exchange rate is lately favourable to the American drinker, as much as can be possible. But a list of cocktails priced at £16, or £18, or even a heart-stopping £26 a sniff is bound to set even the hardiest of world travelers back on her heels. It was only the Christmas holidays and the attendant closure of many of the Capital's top watering holes that saved us from coming home skint.
One of the key reasons for the allure of said establishments — apart from their five-star decor and their world-class staff — is the ability for a colonial to sample libations that simply never make it to our shores. Rare malts! Esoteric liqueurs! Cuban rums! The mind reels at the possibilities of the drinks that could be shaken, if only one had access to such wonders. (Happily, one does. Although London's spirits emporia are small in number, they're rich in merchandise, easily discovered, and more than happy to abuse your charge card in exchange for some very fragile cargo for the return flight.)
One of the best drinks we enjoyed while in London married both of these two alluring elements, the fantastically beautiful bar and the enticingly rare ingredient.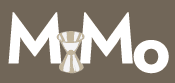 Aided and abetted by another London treasure, Jay Hepburn — proprietor of the spectacular blog known as Oh, Gosh! — we spent an evening taxing the hospitality of not one but two of London's luxury-hotel lounges, the Bar at The Dorchester and Connaught Bar. Though our night at The Dorchester will forever remain a highlight of our London trip (due in no small part to the extraordinary welcome we received from our gregarious barman, Stefano, and his flawless drinks that kept us so enraptured that we missed the last train of the night!), the Connaught was a stunner.
It's an opulent space, somehow embodying both splendid beauty and undeniably comfort. The staff are impeccable, gracious to a fault, and thoughtful to the utmost detail, from the first greeting to the last farewell. We were welcomed with a complimentary sip to enjoy while we perused the menu, then presented with a sheaf of recipes for the drinks we'd enjoyed at the end of the evening — an enchanting gesture that I hope will be the start of an international trend.
Though we savored many wonderful drinks that night, the final nod must go to the very first I tasted at Connaught Bar: a complex, spicy bit of exotica known as the French Sin. It's not a simple drink to make, requiring a flavoured sugar, a barely seasonal fruit, a rare vermouth, and a carbonated tea infusion. Nevertheless, the rewards, as they say, are in the glass.
The French Sin also makes a perfect candidate for this month's Mixology Monday: New Horizons, hosted by the anonymous Scribe of A Mixed Dram. Encouraged to sample a new spirit (amber vermouth, check!) or a new technique (carbonating tea — check again!), the French Sin covers all the bases. But if for some reason, you can't be bothered to fizz your own tea, procure a bottle of rare vermouth, or infuse vanilla beans into sugar, never fear: The gentlemen of the Connaught Bar will be happy to oblige.
French Sin
- Connaught Bar, London
1/2 fresh fig
1/2T to 1T vanilla sugar
1-1/2 oz Armagnac
1/2 oz amber vermouth
3/4 oz lemon juice
3/4 oz rooibos spiced soda water
Muddle the fig in the shaker with the vanilla sugar, then add the rest of the ingredients — other than the spiced soda water — and shake with ice. Double-strain into a small goblet and top with rooibos spiced soda water, and stir briefly to combine. Garnish with a quarter of a fig.
—
If figs are out of season, look for the freshest dried figs available. Rehydrate them in a small amount of hot (not boiling) water until soft enough to muddle. For garnish, use a lemon twist or a yellow flower, reminiscent of a vanilla orchid.
Vanilla sugar can be purchased in gourmet shops or spice stores — Penzey's makes a nice one, as does Nielsen-Massey. To make your own, grind a half of a dry vanilla bean in a spice grinder or coffee grinder with a small amount of granulated sugar. Add this vanilla powder to 1 cup sugar and let sit at least 24 hours (and preferably up to a week) before using. In this recipe, you can use the sugar as-is, since you'll be straining the shaken mixture, but in baked goods or as a general sweetener, use a fine sieve to remove the larger pieces of vanilla pod after the infusing is complete.
To make the rooibos spiced soda, steep 4 tsp spiced rooibos tea (or 1T pure rooibos tea plus a few cardamom pods, whole peppercorns, and cloves) in a quart of hot water for 5 minutes. Strain, chill thoroughly, and charge in a soda siphon.