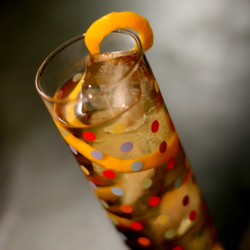 Last weekend's do-it-yourself bubbly bar was a source of great amusement for our guests. Aided by a handy cheat-sheet, the crew whipped up Kir Royales and Champagne Cocktails and Death in the Afternoons aplenty. For the teetotalers, we also offered an assortment of homemade syrups and alternative sparklers — Seltzer Sisters soda water and two kinds of ginger ale — along with suggestions for non-alcoholic spritzers.
One of my favorites in this category is the venerable Horse's Neck, a deceptively simple combination of a ginger ale and long strip of lemon zest that dates to the late 1800s. Popular though the soft drink was, it didn't take long for clever barkeeps to fortify it. As early as 1897, columnists allowed that "a dash of whisky is said not to interfere with the agreeable taste of this drink." By the turn of the century, the once-optional shot was nearly a foregone conclusion, although the original recipe enjoyed a revival of sorts during the temperance years.
The boozed-up version — known as a "Horse's Neck with a Kick" or a "Stiff Horse's Neck", depending on which mixology manual you consult — adds an ounce or two of your favorite brown liquor to the glass. Most recipes call for whiskey of some sort, but you find occasional mentions of brandy or even gin. Wander a little further afield, and it's not too hard to see the hoofprints in similar beverages: Swap rum for whiskey and a lime wedge in place of the lemon twist, and you've got a Dark & Stormy. Substitute vodka, and you're 2/3 of the way to a Moscow Mule — even the name is a clue!





Horse's Neck with a Kick
1-1/2 to 2oz bourbon or rye
ginger ale
bitters
lemon zest
Place a long, continuous spiral of lemon zest in a Collins glass, hooking one end over the rim to keep it from sinking. Fill the glass with ice, add the bourbon and a few shakes of bitters, and top with ginger ale.
1 Year Ago — DOTW: Bobby Burns