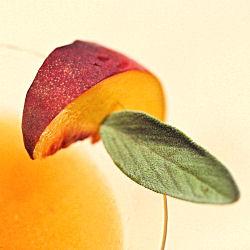 Last year, I put myself on a book diet. Watching my ever-expanding kitchen library take over the countertops, I knew the time had come for serious change. I still allowed myself to purchase cookbooks, but only after thoroughly vetting them first. Usually, this involved borrowing the book from a friend, or from the public library.
Even though it's been difficult to curb the urge to acquire every buzz-worthy title on the market, the system that I fondly call "the new cruelty" has saved me from buying more than a few turkeys. The number of additions to our library has been small, but every one of them gets used regularly.
My real problem, though, was bar books. I'm the abashed owner of what any normal foodie would consider to be an unseemly quantity of cocktailian tomes. Given the vast amounts of spiritous inspiration lurking around every corner of the Internet, my hoard has proven truly unnecessary. In the strictest sense, most mixology manuals aren't even all that inspirational — they often lack photos, and they're typically burdened either by purple prose or too-clinical content. Enough, I said, was enough.
So while everyone else swooned over The Art of the Bar during its debut, I smugly folded my arms and turned my head. I have plenty of drinks books, I told myself. Besides, I'm not even that fond of Absinthe (the authors' place of employment, that is, not the aperitif).
But one afternoon with some time to kill between mid-day appointments, I found myself in front of a local bookstore. I popped inside and headed down to the cookbook department. Grabbing a few titles and heading to the nearest bench, I was sucked into to The Art of the Bar by beautiful full-page photos, artfully styled but still obviously real. The copy was engaging, and the recipes — I grudgingly admitted — were interesting without being too "out there". In short, it was the cocktail book I could justify buying.
But still I stood my ground for months, even after discovering that the San Francisco Public Library — quite scandalously — does not own a copy of this widely acclaimed title (all the more amusing because you could almost hit Absinthe with a muddler thrown from the roof of the Main Library). After finally scrounging a copy through interlibrary loan, it didn't take more than a few test drinks to know that my moratorium would crumble.
Living with one of the world's most unrepentant punsters, it's not surprising that one of the first recipes I flagged was a little number called Peaches & Herb. Stone fruits had just burst into season as my very own copy arrived on our doorstep, and the new sage plant was thriving — truly, my path was clear.
We've been mixing up a batch of these beauties almost every week for the last month, trying little variations here and there. You'll be pleased to know that orange bitters, or even Angostura, can take the place of the requested peach bitters (although the original is undeniably better).
This month's edition of Mixology Monday asks us to think orange — and the lovely P&H qualifies twice, both by virtue of its sunny color and one of its key ingredients. Even if you're colorblind you'll definitely want yellow peaches here; their white siblings clash with sage's herbal intensity. And although brandy makes for some mighty smooth sipping, I'd be remiss if I didn't recommend bourbon as a tremendously interesting variation.
Peaches & Herb
- from The Art of the Bar, by Jeff Hollinger & Rob Schwartz
3 to 4 slices of peach, plus 1 slice for garnish
3 to 4 fresh sage leaves, plus 1 leaf for garnish
splash of simple syrup
1-1/2 oz brandy (or bourbon)
1/2 oz Cointreau orange liqueur
2-3 dashes peach bitters
1/4 oz lemon juice

In a mixing glass (or cocktail shaker), muddle the peach and the sage with the syrup (if needed, depending on the sweetness of the peach), to make a pulp. Top with ice; add the brandy, Cointreau, bitters, and lemon juice. Shake your groove thing until cold, and strain into a chilled cocktail glass; garnish with remaining peach slice and sage leaf.