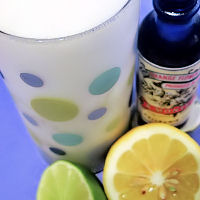 Despite its presence in every decent cocktail manual — and on many of those mixer glasses with drink recipes printed on the side — many serious drinkers would be hard pressed to detail the ingredients of the venerable Ramos Gin Fizz beyond "Gin… and, uh, something fizzy?"
I would have had to include myself in that statement until I sat down at Pegu Club on a slow evening and asked Nate what he did with the cardamom tincture behind the bar. And although I'm not usually one for frosty cocktails, especially when it's blizzarding outside, this was one hell of a tasty drink.
Ramos Gin Fizz
1-1/2 to 2 oz. dry gin
1/2 oz. lemon juice
1/2 oz. lime juice
1 oz. light cream
1 egg white (use the pasteurized sort, if you're feeling squeamish)
a splash of soda water, plus more for finishing
2 to 3 drops of orange-flower water
1T confectioners sugar
In a cocktail shaker half-filled with ice, shake all ingredients vigorously until they reach the proper foamy texture. (If you're all alone, I suppose you could use a blender, but serious folks would call you unflattering names behind your back.) Strain into a tall glass and top with a touch more club soda — but beware the watery Ramos.