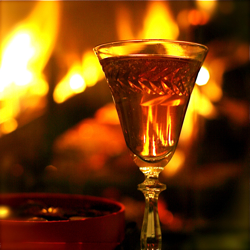 As 2007 slips away, our thoughts turn to cocktails we'd want to sip while curled up on the sofa with a good book or a fascinating companion. To my mind, the best drinks for the shortest nights mix spicy holiday flavors with a dash of new year's sparkle.
We wanted to pair these classic year-end tastes with seasonal citrus, given the incredible varieties gracing our farmers market. Initially, we tried blood-orange juice, elderflower liqueur, and Champagne, but we weren't happy with the look — it screamed "Jello shot" rather than whispering "cocktail". When we tried less garishly colored juices, our sparkler felt more like a complicated Mimosa than a cozy evening tipple.
Spying a small bottle of the Charbay Ruby Red grapefruit vodka in a pricey St. Helena liquor emporium, we decided to try a different route to the citrus belt. (Are you turning up your nose at flavored vodka? Don't. These folks mean business: They use real fruit and old-world recipes. And they're local. To us, anyway.) The vodka's grapefruit-peel bitterness tempers the floral sweetness of the liqueur; the bubbly brightens the drink, while Fee's whiskey-barrel bitters add a masculine depth.
Speaking of the Fee's: If Santa didn't leave you a bottle of these delectable drops in your stocking, you need to correct this error yourself. Yes, they're worth the shocking premium over the cost of regular bitters, and you might have to break down and pay for shipping. If you have to go the mail-order route, you may as well buy a few bottles for friends. No, really… you can thank me later.
A finishing touch of orange bitters reinforces the drink's citrus-spice scent, without adding any untoward sour or sweet notes. Of course, you can make this cocktail with any sparkling wine — a lovely trait during the time of year when half-finished bottles of bubbly seem to magically appear in fridges everywhere. But for that perfect flame-like glow, seek out a dryish rosé for your sparkler… and get ready to get cozy.
Firelight
1 oz St-Germain elderflower liqueur
1/2 oz grapefruit-infused vodka, homemade or Charbay Ruby Red
3 dashes Fee's whiskey barrel bitters (or 2 dashes Angostura and 1 dash Peychaud's)
—
2 oz rosé sparkling wine
1 to 2 dashes orange bitters (preferrably Regan's)
In a mixing glass with ice, stir together the St-Germain, grapefruit vodka, and aromatic bitters. Strain into a chilled cocktail glass, and top with the bubbly and the orange bitters.